ABOUT
Hello. I'm Caleb. I started playing RuneScape in 2005, and the Wiki in 2008. I was young then, and still plenty young nowthank god I recently graduated from Raffles Institution and am awaiting 2 years of mandatory national service, following which I'll be pursuing my undergraduate studies - most likely in Physics. Hoping to study in Reed, but otherwise the other Ivies are my safety schools. psst, I'm Asian
Just kidding, it's hella hard for an international student to get into a US university, even if grades aren't an issue (which they aren't.) I'm not fussy about going to a brand-name school, just as long as I'm in an environment of genuine intellectual curiosity - which is a big deal for me. (Zen and the Art of Motorcycle Maintenance, I like.) In any case, I've got a few months of free time now, and my time is mostly split between: reading books, learning to code/program for kicks, valiantly trying to fry an egg. I'm around...but not active here, my Wiki time is spent building up another Wiki right now. also, I'm just lazy. and, I don't like you. shoo.
PLAYSTYLE
Make no mistake, I play to relax. I afk-train skills mostly - anything click-intensive just bores me to no end. This is also why I'm not in the CC - I'm busy watching anime or youtube. not that anything terribly interesting happens there anyhoo 120 Dungeoneering was mostly 1m xp in 1 hour per day through sinkholes/festive aura/Dungeoneering challenge x2/possibly Gorajo card boost. So you get the idea, I'm not the type to no-life a skill. Also, bugger off Livid Farm, you can keep your completionist cape to yourself.
To maximise fun, I took a screenshot of every 99 (and sometimes the accompanying emote). Just a little project where I try to capture the best or kookiest sights in Gielinor.

For my amusement and possibly yours: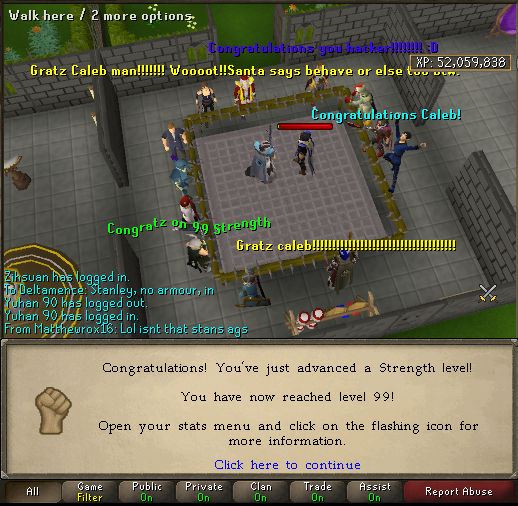 16 Dec 2010 - Party with Wikians
OTHER FICTIONAL UNIVERSES