Battleben/Black Mask
Discuss

0
22,500pages
on this wiki

The
Black Mask
is a very interesting mask worn and dropped by the
Cave Horrors
on
Mos Le'Harmless
. It also has a chance to lower monsters defence levels. Most people would assume that is all there is to know about it, but that is FAR from the truth. Why do the Cave Horrors wear the mask in the first place?
References to the Mask
Edit
Cave Horrors
not only drop, but also wear the Black Mask. Cave Horrors are nearly identical to the
Jungle Horrors
that inhabit the surface of Mos Le'Harmless, with the main differences being that they wear
Black Masks
and have a terrifying scream that can only be repelled with
Witchwood
.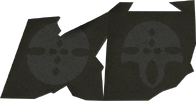 The
caves
on Mos Le'Harmless contain more references to the Black Mask then just the Cave Horrors, they also contain strange tiles with pictures of Black Masks on them, some of them match the mask exactly, while others look like unfinished black masks, with the rest having not been carved yet.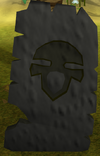 The
Slab
is a black stone found outside the Mos Le'Harmless caves that has a picture of the Black Mask on it. It is used to revive the
Ex-Ex-Parrot
, and fragments can be chipped off of it which are used to feed the Parrot. When anything is used on the slab, a message appears saying "Something sinister happens somewhere far off, but for all intensive purposes, nothing interesting happens."
The Ancient Pillar
Edit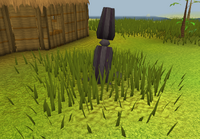 The
Ancient Pillar
is a pillar found next to
Mikes
shop in Mos Le'Harmless. It is made of similar materials to The Slab, and when Mike is asked about it, the following conversation ensues:
Player: Where did this pillar come from?
Mike: Dunno. There are a load of islands out this way, and a lot of them have little bits and pieces like this scattered around.
Mike: The way I see it, there must have been some more people out here at one point, then they went away.
According to the Old Diary, the Skeletal Horror lived in the late Third Age, and the Black Mask worn by the Cave Horrors is modeled on his skull. The Black Masks seem to have been created to try and imitate the Horror, which possibly means that the Horror was worshipped, as some kind of god-like being.
Conclusion
Edit
The Black Mask was created by a civilization in the Third Age, based on their Leader/God, The Skeletal Horror. At some point or another the Horror was killed, and the civilization was destroyed with only a few things to remind people of their history, such as the Ancient Pillar and the Cave Horrors, who may have been "pets" of the civilization, or maybe even be the civilization itself, reduced to living like animals due to the death of their leader. The Black masks were carved from stone, and are possibly the source of the Cave Horrors powerful scream.