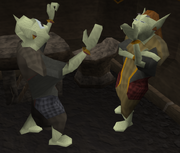 Ur-lun is a member of the Dorgeshuun Council. She can be found with Ur-Pel, another member of the Dorgeshuun Council. When you talk to her, she will be discussing the colour of the guard's uniforms. Your character will have the option to say that they have been there before, referring to Goblin Diplomacy, in which the goblin generals argue over which colour goblins are the best.
She can also grant the player the ability to sell food to Gourmet.
Ad blocker interference detected!
Wikia is a free-to-use site that makes money from advertising. We have a modified experience for viewers using ad blockers

Wikia is not accessible if you've made further modifications. Remove the custom ad blocker rule(s) and the page will load as expected.