Greetings, adventurer.
Pick up my Warm Winter Outfit - brand new to Solomon's Store - and you'll be set for the chilly adventures ahead of you.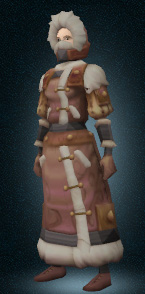 This toasty bundle of well-crafted furs and leathers can fight off even the most bitter cold - whether you're hiking over White Wolf Mountain or making your way to Daemonheim.
And don't forget, if you're in a rush or aren't able to swing past my store, you can now buy your cosmetic outfits from within your Wardrobe. Just find the item you desire, click 'Buy Now' and – providing you have the correct amount of RuneCoins – the item will be yours instantly!
Get more RuneCoins to use in my shop by redeeming Bonds in-game, by clicking 'Buy RuneCoins' when you're in Solomon's Store, or by visiting our billing page directly.
Drop by the store in game to say hello soon. You can find me just south of Varrock's Grand Exchange!
Until next time,
Solomon
The current free item for members is the Iron-Fist Smithing animation override. Visit Solomon's Store now to pick it up!
Ad blocker interference detected!
Wikia is a free-to-use site that makes money from advertising. We have a modified experience for viewers using ad blockers

Wikia is not accessible if you've made further modifications. Remove the custom ad blocker rule(s) and the page will load as expected.