Greetings, adventurer.
As promised, two more outfits from the character team showcase have arrived in my store today: the Ogre Infiltrator and Drakewing, complete with a tale of their inspiration!
A challenge was issued to RuneScape's character artists: create new outfits to showcase your skill, content the like of which Gielinor has never seen. The challenge was met; indeed, it is my privilege to unveil the second pair now!
But need I describe these fantastic new items when a mind behind their creation is at hand? Mod Yann - one of the talented artists behind these fine new designs - explains how he and his esteemed colleague Mod Marx went about creating these fine costumes:
Drakewing:
'Everyone likes dragons, and we believe the addition of wings and a tail makes this costume unique, offering something that has never been done before.'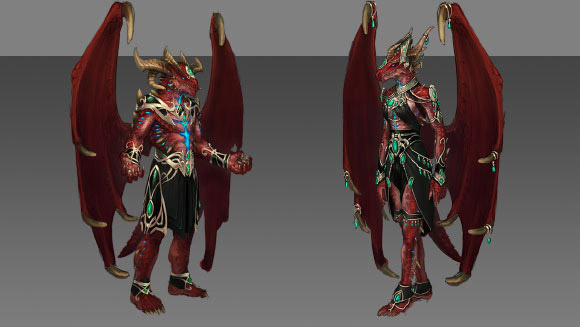 Ogre Infiltrator:
'We approached this with a sillier outlook befitting the appearance of our ogres. This can be seen in the kit proportions, which are enlarged and exaggerated - again, giving the players the opportunity to wear something that hasn't been done before in Runescape.'
The Ogre Infiltrator and Drakewing outfits are available now, alongside their Deathless Regent and Ravenskull counterparts, so please do visit Solomon's General Store for a closer look. If you would like more RuneCoins, you can redeem Bonds in-game. Alternatively, you can purchase additional RuneCoins here, or by clicking 'Buy RuneCoins' inside my store.
Until next time.
Solomon
The free item for members is currently the Revolutionary Mask.
Discuss this on the forums.
Ad blocker interference detected!
Wikia is a free-to-use site that makes money from advertising. We have a modified experience for viewers using ad blockers

Wikia is not accessible if you've made further modifications. Remove the custom ad blocker rule(s) and the page will load as expected.