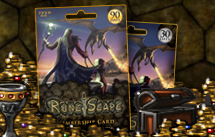 Great news: We have been working with some of the largest retailers in Canada to make our Incomm pre-paid subscription cards available across the country.
The cards are available for 1- or 3-month subscriptions to RuneScape and can be purchased from Best Buy, Future Shop, and the Universities of Toronto, Capbreton and Calgary. Very soon, the cards will also be available to purchase from other major retailers.
Once you have purchased your card, you can use the PIN number on the back to subscribe to RuneScape. Click here to find out how.
These cards are also available in the United States, and they can be found in branches of Target, 7-Eleven, Wal-Mart and Rite-Aid. We are hoping to launch these convenient cards in more countries in the future, so keep an eye out for further announcements.
Ad blocker interference detected!
Wikia is a free-to-use site that makes money from advertising. We have a modified experience for viewers using ad blockers

Wikia is not accessible if you've made further modifications. Remove the custom ad blocker rule(s) and the page will load as expected.