It's only been a day since the clan support update was released and more than 250,000 of you have already pledged your allegiance to a clan. RuneScape now plays host to over 33,000 new clans and an astonishing 10,000 people an hour are joining a clan!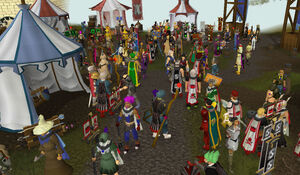 To officially register your clan or to join an existing clan, log in to RuneScape and visit the Clan Camp[help] south of Falador. With the number of clans rising fast, we recommend that if you already had a clan prior to official clan support in RuneScape, or if you just fancy the challenge of creating your own clan, make sure you create your clan quickly before your ideal clan name gets snapped up by someone else.
The RuneScape Team
---
RuneScape Wiki note:
The links no longer work.
Ad blocker interference detected!
Wikia is a free-to-use site that makes money from advertising. We have a modified experience for viewers using ad blockers

Wikia is not accessible if you've made further modifications. Remove the custom ad blocker rule(s) and the page will load as expected.