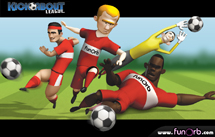 With the World Cup looming, FunOrb has gone football mad, and have announced a Kickabout League World Cup Event. It will be a three-stage knockout tournament that will pit players against each other (on a level playing field) in order to find out who will emerge victorious.
A world class event like this deserves a world class prize...so we've obtained a framed Brazilian football shirt signed by the King of Football himself, Edson Arantes do Nascimento - better known as Pelé!
This fantastic prize can be yours, but only if you have the skills and technique to beat the rest. Get your boots on and head over to the World Cup HQ and Press Conference threads on the FunOrb forums for more information on the competition, other prizes you can win, an FAQ, and to ask any questions you may have.
Mod Markg

FunOrb Community Management
Ad blocker interference detected!
Wikia is a free-to-use site that makes money from advertising. We have a modified experience for viewers using ad blockers

Wikia is not accessible if you've made further modifications. Remove the custom ad blocker rule(s) and the page will load as expected.