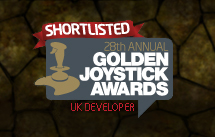 Voting for this year's Golden Joystick Awards closes on 25th October, so if you want to vote for Jagex as the UK Developer of the Year this could be your last chance.
So far, the Golden Joysticks voting page has held up against the barrage of RuneScape votes. Let's test them to the limit one last time and see if the world's best MMO community can overwhelm their servers, just like we did last year!
If you would like to support Jagex in this year's awards, simply go to the voting page on the Golden Joystick website - you'll find Jagex in the 'UK Developer of the Year' category.
Thank you once again for all your support.
Regards,
Andrew & Mark Gerhard
Ad blocker interference detected!
Wikia is a free-to-use site that makes money from advertising. We have a modified experience for viewers using ad blockers

Wikia is not accessible if you've made further modifications. Remove the custom ad blocker rule(s) and the page will load as expected.