This year's Golden Gnome Video Award entries have been amazing. The quality and variety has really blown us away with more polished machinima, beautifully crafted RSMVs and well-acted live action films than ever. We also saw a huge increase in the number of players flexing their animation skills this year, showcasing just about every style of animation imaginable.
In fact, we received so many animation entries that we felt we really needed to bring back one of last year's most popular Golden Gnomes. The GGVA for Best Animation!
Judging the finalists wasn't easy as there was so much variety and talent on show but, in the end, we unanimously agreed on two films that took wildly different approaches to their craft. Both share a level of skill and creativity that we felt worthy of recognition and present RuneScape in exciting and engaging way.
So without further ado, the nominees for the Best Animation are:
"Jeffrey_Son" and "Ox-Burger"
Check out nominees in action: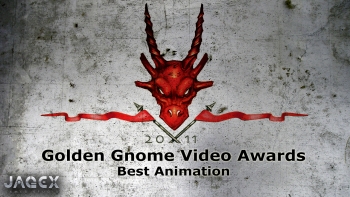 Congratulations guys, we bow to your amazing skills!
Tomorrow we'll be tuxedo'd up to the max as we announce the film makers coming to RuneFest 2011 all hoping to pick up the GGVA for "Best Video Overall". Exciting times!
RuneFest Team
Ad blocker interference detected!
Wikia is a free-to-use site that makes money from advertising. We have a modified experience for viewers using ad blockers

Wikia is not accessible if you've made further modifications. Remove the custom ad blocker rule(s) and the page will load as expected.