Redeem a green RuneScape pre-paid game card between Thursday October 24th and Thursday November 7th (inclusive) to receive your free sinister clown mask!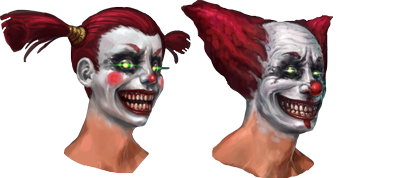 This horrifying headgear arrives just in time for Halloween, so claim your free menacing mask now and take on the guise of a ghoulish clown for the most horrifying day of the year – and beyond.
Please note: the sinister clown mask is only available with green RuneScape pre-paid game cards, worth $10US/£7.50/€10/$15AU.
To find your nearest game card retailer, head over to our store locator page.
This offer ends 7th November 23:59 GMT. Don't forget – redeem a green game card and in addition to receiving the sinister clown mask, you'll also get to choose between 35 days of membership, 30 days of membership and 5 Squeal of Fortune spins, or 350 RuneCoins!
Any questions? Head on over to the FAQ.
The RuneScape Team
Discuss this on the forums.
Ad blocker interference detected!
Wikia is a free-to-use site that makes money from advertising. We have a modified experience for viewers using ad blockers

Wikia is not accessible if you've made further modifications. Remove the custom ad blocker rule(s) and the page will load as expected.