The Big Homepage Update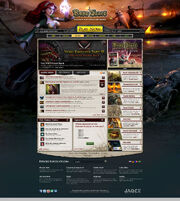 Did the title get your attention? I'm glad! It isn't often that we web designers get a chance to show off our designs before they are launched, but that rare opportunity has presented itself and we're giving you a sneak peek of the upcoming RuneScape homepage redesign! We've had great fun working on this and feel we've come up with something that not only looks great and gives RuneScape a more polished home, but is also packed with new features that will help showcase our great new content and support our community.
So, here it is! We're all very excited; we know it's a bit of a departure from the brown boxes you'll have gotten used to, but the bright palette, revised layout and expanded space for visuals will give the RuneScape homepage a fresh and vibrant feel.
Featured content rotator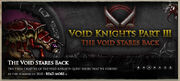 A picture is worth a thousand words, or so the saying goes. We know that sometimes you don't want to read through line after line of a news article to find out the big stories in RuneScape, so we've created this scrolling 'featured news' panel. It will host all of the latest and greatest updates from within RuneScape, as well as any other important competitions or features you may want to know about. This will all be presented with a short caption and large banner graphic: what better way to tell you about new content than simply showing you? No need to worry, though: we will still have the regular news section on the homepage for all the other information you need.
Quick polls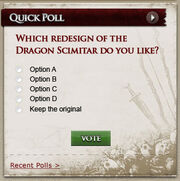 We rely on your feedback, but we also know that your time is precious and you'd rather be playing RuneScape. So, we'll be making the online polls more straightforward, and you can participate in them directly from the homepage. The polls will be updated more regularly, so you will be able to get your feedback to us quicker than ever.
Hot forum topics
Want to know what the hot conversations are on the forums? It's never been easier. The new RuneScape homepage will have links to five hot forum topics, so you can instantly join conversations and chat with your online friends.
Sitemap
RuneScape.com is huge, much like Gielinor itself, and we don't want you to get lost. The new sitemap-style footer will not only aid you in finding key content across the website, it'll help you get there faster. It'll also help you explore the website and perhaps even discover areas you didn't know existed.
The extended website
With the introduction of the RuneScape HD website design, we launched every page simultaneously; however, this time around, we are going to do things a little differently. In order to get you the new features and designs as quickly as possible, we will be rolling out the extended website piece by piece. This means you'll be able to see it evolve, so keep an eye out for all the future changes we've got planned! That about wraps it up from us; feel free to drop any thoughts or questions you have on this forum thread.
---
Mod Morley and Mod Lee M of the Creative Services team have some info about an upcoming redesign of the RuneScape homepage, which will improve both its functionality and look.
Ad blocker interference detected!
Wikia is a free-to-use site that makes money from advertising. We have a modified experience for viewers using ad blockers

Wikia is not accessible if you've made further modifications. Remove the custom ad blocker rule(s) and the page will load as expected.