The Underwater Tunnel is a tunnel found on Harmony Island under the Saradomin statue, accessed during the quest Great Brain Robbery. Players will need a Fishbowl helmet and Diving apparatus to enter.  The area was released on 6 March 2007.
Prior to the Evolution of Combat update this was one of the few areas where the Brine sabre's special attack could be used, as it only worked underwater.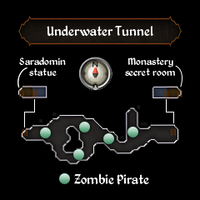 There are ten zombie pirates found in the tunnel.
Personalities
Edit
None