Ugthanki kebab
Discuss

16
22,516pages
on this wiki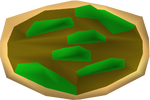 The Ugthanki kebab is a kebab whose primary ingredient is the meat of an Ugthanki camel. The recipe for the Ugthanki kebab can be found on a Scrumpled paper occasionally dropped by Shantay when you "talk" to him.
Ugthanki kebabs are made in a specific order now by chopping an onion into a bowl creating Chopped onion, adding a tomato into the bowl of Chopped onion which makes Onion & tomato, adding a piece of cooked Ugthanki meat, and then using the resulting kebab mix with a baked pitta bread. Level 58 Cooking is required to make the pitta bread, but the rest may be made at level 1 Cooking.
Kebabs heal 1400 life points, and cause your character to say "Yum!".
Ugthanki kebabs can be looted from Gourmet impling jars. Before the removal of random events, you could get a couple of them from the Evil Bob Prison Pete Random Event. Additionally, they are occasionally dropped by Dust devils one or two at a time.
Making an Ugthanki kebab from scratch in Nardah is one of the hard Desert Tasks in the Desert region.
Dropping monsters
Edit
| Monster | Combat level | Quantity | Rarity |
| --- | --- | --- | --- |
| Dust devil | 122 | 1–2 | |