This article is about the TzHaar monster. For the Summoning familiar, see
Spirit Tz-Kih
.
Tz-Kih
Release
4 October 2005 (Update)
Members
Yes
Examine
Totally blind, the waspish Tz-Kih flies guided by sound alone.
Combat info
Level
LP
XP
XP
22
3,000
141.6
46.7
Equipment XP (2H/MH & Armour/OH)
8 / 5 / 2
Aggressive
Poisonous
Slayer
Level
XP
Category
1
72
Volcanic creatures
Assigned by
Offensive
Max hit
244
0
0
? (edit)
Style
Speed

4 ticks (2.4s)

Combat levels
Defensive
Armour
Weakness
1164
61
Affinities
90
55
45
65
Immunities
? (edit)
? (edit)
? (edit)
[FAQ] • [doc]
The Tz-Kih is a monster found in the TzHaar Fight Pit and Fight Cave. They also appear during The Brink of Extinction.
Fight Cave
Edit
In the fight cave, it is the first enemy encountered. It resembles a fiery bat and can hit up to 200 life points. Each hit it inflicts on a player, whether it inflicts damage or not, will drain the player's Prayer points. With every successful hit, it will drain 10 prayer points.
It is advised to prioritise killing these with ranged or magic as their prayer draining ability can make later waves harder and to trap them behind larger monsters where possible.
The name Tz-Kih in the TzHaar language means Fire Fly.
Its examine text was previously "Hangs out in caves."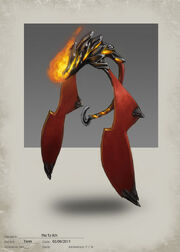 Ad blocker interference detected!
Wikia is a free-to-use site that makes money from advertising. We have a modified experience for viewers using ad blockers

Wikia is not accessible if you've made further modifications. Remove the custom ad blocker rule(s) and the page will load as expected.