Turoth
Release date
26 January 2005 (Update)
Members?
Yes
Combat level
123, 126, 127, 130, 133
XP per kill
125, 138, 146, 154
Slayer level
55
Slayer XP
32, 33, 36, 40, 42
Assigned by
Chaeldar, Sumona, Vannaka
Always drops
Bones
Examine text

He's one big leg short!
She's one leg short!
It's one leg short!
It's one small leg short!

Combat stats
LP
Max hit
2000, 2100, 2100, 2200, 2200

160 (level 123)
168 (level 126)
176 (level 130)

Attack
Defence
Ranged
Magic
Unknown
Unknown
Unknown
Unknown
Other
Immune to Poison?
Immune to Stun?
No
Unknown edit
Attack Speed

Speed 6 (Interval: 2.4 seconds)

Aggressive?
Poisonous?
No
No
Attack style
Weakness
Ranged

Stab

[view template]

Turoths are Slayer monsters that require a Slayer level of 55 to kill. They drop herbs and herb seeds commonly, though not as frequently as Aberrant spectres. They have an unusual death animation where they jump up into the air and land on their head, with their back leg sticking up.
Turoths, like Kurasks, must be killed with either a Leaf-bladed spear, a Leaf-bladed sword, the Slayer Dart spell (which requires a Magic level of 50 plus either a Slayer's staff or a Staff of light), or Broad arrows/Broad-tipped bolts, or else the player's attacks are ineffective.  However, any off-hand weapon works on Turoths (it actually deals damage).
Turoths vary on level depending on their size. Level 123 Turoths have a very pale colour, while the level 126 Turoths have a slightly darker colour. Level 130s are larger, looking almost similar to their level 126, whilst the level 127 and 133's skin is more pinkish-orange.
These monsters typically hit for damage in the in the mid-100s. They don't hit as accurately as similarly levelled monsters, but if they do hit, they usually hit high.
Locations
Edit
Fremennik Slayer Dungeon
Edit
This is by far the most popular location to slay turoth, and having 81 agility can help reduce the time taken to get here. Due to the popularity of the dungeon, players can often get the turoths to block on other players. This is done by attacking a turoth and running around a player, effectively creating a temporary safe-spot. Its advised that you run around a player weaker than you, so that you can kill your turoth faster than the other player, eliminating the possibility that the other player moves away to attack another turoth before you are done. This method can be used to safe-spot the weaker turoth. There is a fairy ring located outside the dungeon for quick access. There are a lot of level 83 and 85 Turoth, three level 87 Turoth, and one level 89 Turoth in this spot, allowing players to kill Turoths at a fast and efficient rate for your Slayer task. AJR is the code for the closest Fairy ring.
Chaos Tunnels
Edit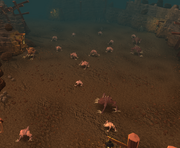 If players are seeking charms, the Chaos Tunnels are the best place to hunt turoth. However, this is not recommended as the tunnels are multicombat, you cannot use a cannon either and the whole place is a maze to navigate through. Malfunctioning portals can set you back, and some rooms may be filled with dangerous monsters. The up-side to this is that you can use a combat familiar. See the Chaos Tunnels page for a map of the tunnels to navigate to the turoths. Players should not use the Chaos Tunnels if they are expecting to kill lots of Turoth in large amounts, as their room is extremely tiny, there's no safespots, there's a lack of level 83 Turoth, there's no level 85 Turoth, and there's a lot of level 87-89 Turoth in there. Also, you must get past dangerous monsters (Bronze dragons and Black demons) therefore carrying an anti-dragon shield is wise; before you can get into this room.
Pollnivneach Slayer Dungeon
Edit
Players can fight turoths here after fighting the Mightiest turoth in the Desert Slayer Dungeon miniquest (requires Smoking kills). The location is especially useful if your slayer master is Sumona, who is located just above the dungeon, so you can get a new task fast. However, due to the dust, anything apart from a Full or regular slayer helm or Masked earmuffs would be not recommended if you have a laggy connection, as when you are logged out, your prayer can drop, and Turoths can hit quite accurately, making you die and potentially lose your items. There are many safespots here. Turoths of all levels reside in the first room, while in the second room, level 87-89 Turoth reside there. This place is usually empty of players, and it's multi-combat area makes it perfect for attacking many at a time. A cannon may be used, but it is a waste of profit as it does no damage against them.
Items to bring
Edit
Leaf-bladed spear or Leaf-bladed sword (the Leaf-bladed sword has the same attack bonus and can be combined with a defender or off-hand weapon, but cannot use 2-handed abilities.)
Decent melee armour
Nature runes and fire staff or equivalent to high alchemise armour drops
Method of healing if using poor armor (below Rune), such as:
100% drop
Edit
Armour/Weapons
Edit