This article is about the shortcut to the Chaos altar. For the dungeon beneath the Wilderness, see
Chaos Tunnels
.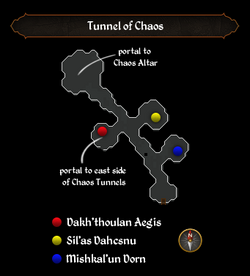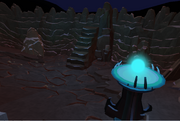 The Tunnel of Chaos can be found after the What Lies Below quest. The entrance is east of Varrock, under the Saradomin statue that's just south of the bar west of the saw mill. It is actually the hidden lair of the Dagon'hai. The area was released on 27 March 2007. You will need to bring a bronze pickaxe to excavate the statue. The tool belt equivalent also works.
It is also the safe shortcut to the Chaos altar for Runecrafting which avoids the Wilderness. The portal is at the far north-west end of the tunnel and requires a chaos talisman, chaos tiara, omni-talisman, omni-tiara, or wicked hood in order to pass.
There is a portal within the first room on the west to the Chaos Tunnels. This is the portal used in the Chaos Tunnels: The Hunt for Surok miniquest.
If you stand facing the wall at the southeastern-most point of the lair, you can just make out the tournament field of the Duel Arena in the distance.
Personalities
Edit
Asgarnia
Kandarin
Karamja
Kharidian Desert
Misthalin
Tunnel of Chaos
Morytania
Fremennik Province
Feldip Hills
Wilderness
Troll Country & The North
Keldagrim
Tirannwn & Galarpos
Others
Ad blocker interference detected!
Wikia is a free-to-use site that makes money from advertising. We have a modified experience for viewers using ad blockers

Wikia is not accessible if you've made further modifications. Remove the custom ad blocker rule(s) and the page will load as expected.