Trollheim
Discuss

8
22,463pages
on this wiki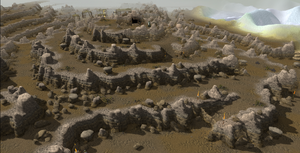 Trollheim is one of the tallest mountains in RuneScape. It is located directly to the east of the entrance to the Troll Stronghold.
All methods of travelling to Trollheim require at least partial completion of the Eadgar's Ruse quest.
Agility shortcuts
Edit
Trollheim has several climbable Agility shortcuts which vary in required Agility levels from 41-64. The most important shortcut (to avoid the rock-throwing trolls) requires level 44. Players with low agility can still reach the summit by using the winding paths. On this map paths are marked in white, and dangerous areas in red.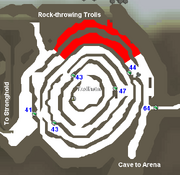 Mad Eadgar resides in his cave at the top of the mountain.
A Small Obelisk can be found at the summit of Trollheim.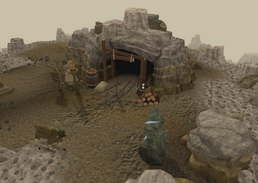 Many quests involving trolls are also involved with Trollheim:
Trollheim is a possible reference to the Norwegian valley, Trollheimen. But since heim means home in Norwegian and German, Trollhome seems more likely.
Every troll, or cities made by trolls have the names dialected into Norwegian. This is likely because they live at the top of Gielinor and Norway is at the top of Europe.
Trolls were believed to dwell throughout Norway in an ancient Scandinavian folklore, called Nordic Mythology.
Some of the rocks (not the ones you can climb) have amusing examine texts. One reads "It's a troll! Run! No, wait, it's just a rock" and another one reads "These make great pets"
Sometimes, there are drops of Food or Potions when players try to get to the God War Dungeon with a full inventory of supplies, however this only happens when people are unable to get back to Trollheim.
There is currently a glitch where the player will get stuck behind rocks and at the cliff side and will become unresponsive to attempts to move. Also, while climbing the western most cliff face, some players cameras will be "shot" forward to the other side of the mountain, which may be a hint at a future cut scene or just a graphical glitch.