Troll general
Discuss

5
22,498pages
on this wiki
Troll General
Release date
24 August 2004 (Update)
Members?
Yes
Combat level
130, 171
XP per kill
480.5 (and 158.6 experience)
Slayer level
1
Slayer XP
94
Assigned by
Chaeldar, Sumona
Always drops
Big Bones
Examine text
One of the Troll Generals.

Combat stats
LP
Max hit
1500
386
Attack
Defence
Ranged
Magic
65
65
1
1
Other
Immune to Poison?
Immune to Stun?
No
No
Attack Speed

Speed 6 (Interval: 2.4 seconds)

Aggressive?
Poisonous?
No
No
Attack style
Weakness
Melee

Water spells

[view template]
Troll generals are huge and powerful Giant trolls that live in Troll Stronghold, on the top floor.
Troll generals have a reasonably high drop rate of law and nature runes. This can be advantageous for players wishing to high alch drops such as Steel Platebodies and Adamant Hatchets for profit, and for players using prayer via the Ardougne cloak/Trollheim Teleport prayer restoration method. Utilising these methods, players can remain here for limitless hours collecting noted drops and high alching cheap weapons and armour for profit, however for profit alone, there are more profitable alternative methods of training. Furthermore, herbs can be noted with the Tool Leprechaun on top of the stronghold, provided that My Arm's Big Adventure has been completed.
As a slayer task, Troll generals are a convenient, higher-level choice when assigned Trolls. They have a reasonably high drop rate of nature runes and weapons and armour, including the occasional Granite shield. Furthermore, they provide a very easy 150 slayer experience for medium-high level players, providing the recommended prayer method is used.
Strengths and weaknesses
Edit
Troll Generals have surprisingly low accuracy. Nevertheless, high leveled melee armour (Barrows or better) is still recommended if not using prayer, as they can hit extremely hard (over 350). Therefore, use of the Protect from Melee prayer or Deflect Melee curse is strongly recommended. It is possible to use ranged or magic attacks on the generals safely, as their large size allows them to be corner safe-spotted. Extreme caution is advised at all times, as they can leave their respective rooms, although this is a rare occurrence, and they only attack if the player walks right next to them. It is possible to poison them, run out of their range, and let the poison do most of the work.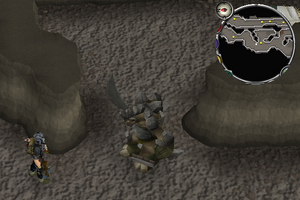 100% drop
Edit
Weapons and armour
Edit
Raw materials
Edit
Please add your charm drop rates to the next template:
Other drops
Edit
Rare drop table drops
Edit
This monster drops items from the rare drop table.
The ring of wealth improves the chances if equipped but is not required to access the table.
Show/hide rare drop table

Item
Quantity
Rarity
GE Market Price
Coins
250; 381; 450; 3,000; 9,000; 12,000
Common
Not sold
Uncut sapphire
1
Common
1,106
Uncut emerald
1
Common
1,749
Uncut ruby
1
Common
3,429
Loop half of a key
1
Uncommon
8,456
Tooth half of a key
1
Uncommon
12,074
Uncut diamond
1
Uncommon
7,237
Uncut dragonstone
1
Rare
15,457
Dragonstone
1
Rare
10,361
Dragon dagger
1
Uncommon
17,181
Rune battleaxe
1
Rare
24,584
Rune javelin
5
Rare
1,250
Adamant javelin
20
Very rare
920
Rune spear
1
Very rare
12,043
Dragon spear
1
Very rare
37,035
Dragon dagger
50 (noted)
Very rare
859,050
Rune kiteshield
1
Very rare
32,394
Shield left half
1
Very rare
64,765
Dragon helm
1
Very rare
59,980
Adamant bolts
200
Uncommon
18,400
Rune arrow
150–200; 500
Rare
29,850–199
Onyx bolts
150
Rare
1,306,950
Battlestaff
200 (noted)
Rare
1,671,600
Air orb
1,000 (noted)
Rare
1,525,000
Fire orb
1,000 (noted)
Rare
1,592,000
Vecna skull
1
Very rare
145,208
Water talisman
1
Uncommon
4,619
Earth talisman
25–35 (noted)
Uncommon
20,425–28,595
Fire talisman
25–35 (noted)
Uncommon
50,975–71,365
Chaos talisman
1
Uncommon
218
Nature talisman
1
Uncommon
260
Pure essence
500–15,000 (noted)
Uncommon
45,000–1,350,000
Nature rune
47–77
Rare
5,217–8,547
Soul rune
20
Rare
2,440
Death rune
50; 121
Rare
93
Blood rune
50
Rare
8,200
Raw swordfish
125 – 250; 1,000 (noted)
Uncommon
38,250–306
Raw shark
250–500 (noted)
Uncommon
236,000–472,000
Big bones
150 – 500 (noted)
Uncommon
65,850–219,500
Coal
150–7,500 (noted)
Uncommon
41,700–2,085,000
Adamantite ore
150–800 (noted)
Uncommon
237,150–1,264,800
Silver ore
100 (noted)
Rare
10,900
Adamant bar
1,000–7,000 (noted)
Rare
3,231,000–22,617,000
Runite ore
100 (noted)
Rare
1,042,900
Rune bar
1,50,150 (noted)
Rare
13,025–1,953,750
Clean ranarr
33 (noted)
Uncommon
78,804
Clean toadflax
25–250 (noted)
Uncommon
96,200–962,000
Clean snapdragon
30–120 (noted)
Uncommon
103,500–414,000
Clean torstol
10–100 (noted)
Uncommon
116,490–1,164,900
Saradomin brew (4)
250 (noted)
Very rare
165,500
Watermelon seed
3
Uncommon
6,276
Yew seed
1–50
Rare
70,571–3,528,550
Magic seed
1–6
Rare
163,332–979,992
Palm tree seed
10
Rare
1,088,560
Snapdragon seed
1
Rare
2,179
Torstol seed
1–31
Rare
84,168–2,609,208
Fellstalk seed
2
Rare
872
Yew logs
100–20,000 (noted)
Rare
57,600–11,520,000
Until February 2012, there used to be two level 113 generals and one level 171 general with identical combat statistics aside from their level. Since then, the two level 113 generals have also had their combat levels increased to 171.
Slayer XP has been reduced to 94 from the 150 it used to give before an EoC update.