Tripwire
Discuss

3
22,528pages
on this wiki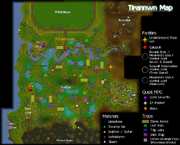 Tripwires are located in Tirannwn. They appear as two rocks very close together with a wire running between them. There are also four miniature crossbows pointing at them. Place the cursor between the rocks to find a tripwire, then step over. If a trap is triggered double 50s of damage will hit as well as a 20-damage poison condition. It has a high fail rate.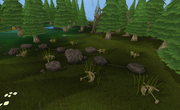 If you examine the bows it will say "It's a trap!", a famous quote from Star Wars.
In one of RuneScape's many postbags, a player questions the Trip wire as to why protect from missiles is ineffective. Apparently, the secret is the bolts are dipped in the tears of rangers by "Mr. T Wire's" wife "Barb".