Trinks is a Goebie who can be found in the village Kanatah on Mazcab. They offers tasks for the player. A maximum of 3 different tasks can be done every day.
Using a Trinket on Trinks gets you a Strange glowing orb.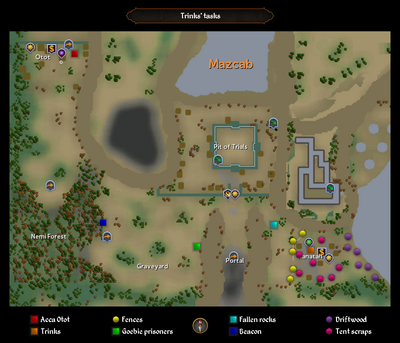 Tasks give 15 reputation each to the player, for a maximum of 45 reputation per day. Tasks are given in a random order and vary from player to player. Possible tasks include:
Find a Traitor in the Nemi Forest. The traitor is level 5 with 1000 life points and thus is easy to kill.
Deliver a message to Acca Otot. Acca Otot will give you a message to take back to Trinks.
Repair 10 fences around Kanatah.
Kill 10 Airut. You are given Nemi poison for this task, which greatly weakens the Airut when used on them. Airut poisoned with the Nemi poison give no drops.
Free 5 Goebies from their cages by the Airut, and kill 5 Airut guarding them. Nemi poison can be used for this task.
Clear 10 fallen rocks north-west of Kanatah.
Light the beacon north of the eastern entrance to the Nemi Forest. (The beacon is north of the Goebie in the graveyard, don't go inside the forest.)
Pick a Pahtli fruit from a Pahtli plant in the Nemi Forest to cure sickly elders. (The pahtli fruit is plucked from a plant found in the forest)
Collect 10 driftwood and return them to Trinks.
Inhabitants
Items
Rewarded titles
Locations
Music
Activities
Related
Ad blocker interference detected!
Wikia is a free-to-use site that makes money from advertising. We have a modified experience for viewers using ad blockers

Wikia is not accessible if you've made further modifications. Remove the custom ad blocker rule(s) and the page will load as expected.