The tribute stone was a part of the Tribute to Guthix event. Because the stone reached 100,000 essence during the event, it can now be used as a Prayer altar and small Summoning obelisk. It is located north of Falador near the lodestone.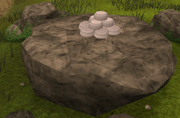 The original objective for the tribute stone was 250,000 rune essence. However, two weeks after the event started, there was still less than 80,000. On 25 March 2013, the objective was changed to 100,000 and the event itself was extended for another week.
When using the tribute stone to recharge summoning points, it uses the old animation.
NPCs
Rewards
Scenery
Tribute stone
Related
Ad blocker interference detected!
Wikia is a free-to-use site that makes money from advertising. We have a modified experience for viewers using ad blockers

Wikia is not accessible if you've made further modifications. Remove the custom ad blocker rule(s) and the page will load as expected.