Walkthrough
Edit
Getting started
Edit
Talk to Kangai Mau in the large building north of Brimhaven's pub.
Head to the mansion to the west of Ardougne market.
Talk to Horacio.
Go south to the building with the estate agent, pick up the book from the table and read it.
Teleportation
Edit
Talk to Wizard Cromperty in a house to the northeast of Ardougne market.
You will be teleported to the RPDT depot, which is south of Ardougne's south bank.
Investigate the crate south of the stack of two crates. (It should be the one directly to your east upon being teleported.)
Use the Address label on the stack of two crates directly north of the previously mentioned crate.
Talk to one of the RPDT employees and ask when the crate will be delivered.
Talk to Cromperty and ask to use his new teleport spell.
The Totem
Edit
Once inside the house, open the western door, using the code "KURT" to get in.
Right-click investigate the stairs, then climb-up them.
Once upstairs, enter the next room, open the chest, then search it for a totem.
Finishing up
Edit
Return to Kangai in Brimhaven with the totem.
Quest complete!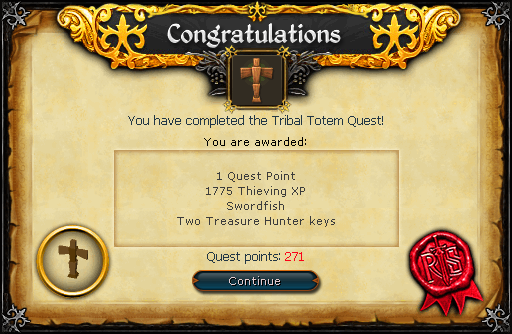 Ad blocker interference detected!
Wikia is a free-to-use site that makes money from advertising. We have a modified experience for viewers using ad blockers

Wikia is not accessible if you've made further modifications. Remove the custom ad blocker rule(s) and the page will load as expected.