The Tree Gnome Village, also known as Priw Gnomo Andralo in Gnomish, is the home of the Gnomes. It is primarily a giant hedge maze (Tree Gnome Maze), at the centre of which lies a civilisation. To enter the village press squeeze through loose railing. If you talk to Elkoy he will lead you through the maze, saving a bit of time.
Notable Features
Edit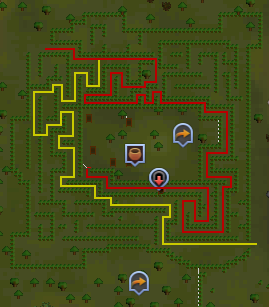 Gnome Village Dungeon - there are skeletons, giant bats and hobgoblins in here, as well as a jail with a gnome called Golrie (he is featured in Waterfall Quest, Roving Elves, and The Path of Glouphrie).
Spirit tree - after completing the Tree Gnome Village quest, players have access to the Spirit tree transportation system. The trees have options to teleport to Varrock, the area south of Ardougne, the Tree Gnome Stronghold, and after the quest The Path of Glouphrie, near the Poison Waste Slayer Dungeon.
Gnome glider - after completing The Prisoner of Glouphrie quest, players can use a new glider route, piloted by Captain Belmondo. It is located just outside the village near Elkoy and the farming patch.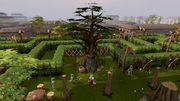 Tortoise - these are level 90, and if they carry gnomes they have melee, range and mage attacks. They drop Tortoise shell, which can be sold to Barlak in Dorgesh-Kaan for 600 coins, and also used as a Summoning pouch requirement for the level 67 War tortoise.
Personalities
Edit
Here is a list of creatures that inhabit the maze: