Walkthrough
Edit
Start point
Talk to King Bolren at the centre of the Tree Gnome Village maze.
Member requirement
Members only
Official difficulty
Intermediate
Length
Medium (~16 minutes)
Requirements
None
Items required
Items from the tool belt are not listed unless they do not work or are not automatically added.

6 normal logs (or a hatchet to get some)

Enemies to defeat
Getting started
Edit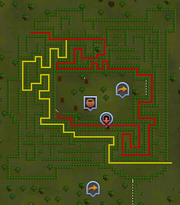 The Ballista
Edit
North of the maze, talk to Commander Montai (in the red armour).

Talk to him again to give him six logs.

Talk to Commander Montai again.
Talk to the 3 tracker gnomes (map locations below).
West of Commander Montai, fire the ballista and choose coordinate until successful.
The building next to tracker gnome 1, climb over the crumbled wall.
Climb up the ladder and search the chest for an orb of protection.
North entrance of the maze, follow Elkoy.
Talk to King Bolren.
Head north-west of the battlefield and follow the Ardougne wall all the way west.
Kill the Khazard warlord.
Follow Elkoy then talk to King Bolren.
Quest complete!
Ad blocker interference detected!
Wikia is a free-to-use site that makes money from advertising. We have a modified experience for viewers using ad blockers

Wikia is not accessible if you've made further modifications. Remove the custom ad blocker rule(s) and the page will load as expected.