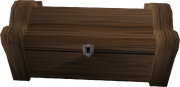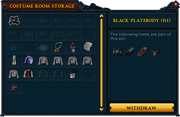 The treasure chest is a hot spot found in the costume room of a player-owned house. Treasure chests are used to store Treasure trail rewards, either bought or discovered by players themselves. However, only certain rewards may be stored, and in some cases a complete set is required.
The following Treasure trail rewards cannot be stored:
God pages (also known as Torn pages)
Other common items that may be found elsewhere
You cannot store item sets from the Grand Exchange in the treasure chest even if all of the components can be stored within the treasure chest.
Treasure chests
Edit
When upgrading the treasure chest you must remove all stored items before removing your existing chest. This can be difficult if you have many rewards and not much room in your bank.
The total cost to fill the chest is 242,544,158.
Storable rewards
Edit
Ad blocker interference detected!
Wikia is a free-to-use site that makes money from advertising. We have a modified experience for viewers using ad blockers

Wikia is not accessible if you've made further modifications. Remove the custom ad blocker rule(s) and the page will load as expected.