Treasure Trails/Guide/Coordinates
Discuss

12
22,528pages
on this wiki
Contents: Wizards - 00 01 02 03 04 05 06 07 08 09 11 12 13 14 15 16 17 18 19 20 21 22 24 25
Coordinate clues
During a Treasure Trail, a coordinate clue is a clue-scroll that contains a set of coordinates. Much like the real-world longitude & latitude geographic coordinate system, coordinates in RuneScape indicate a precise point somewhere on the surface where the next clue scroll, or potentially the treasure casket, is buried. Coordinate clues will only appear in Treasure Trails of medium or hard difficulty. The coordinates are presented in the following format:
00 degrees 00 minutes north/south
00 degrees 00 minutes east/west
In RuneScape, one square of space is roughly equivalent to two minutes (exactly 1.875 minutes). As there are sixty minutes in a degree, each degree is roughly equivalent to thirty-two squares. (Note: The above location is the exact centre of the Observatory and is not actually a coordinate clue location.)
After receiving a coordinate clue, players must locate the exact position (more precisely, the exact square) that the clue scroll indicates, using a chart, sextant and watch. Players can get these by going to the Observatory, talking to the professor. Brother Kojo, in the Clock Tower, gives the player a watch. The sextant can be collected from Murphy in the docks of Port Khazard. Players must have a chart and watch in their inventory or on their toolbelt, and a sextant and spade in their inventory, or summoned meerkats with scrolls or they will not be able to complete the clue. On that point, the next clue, or the treasure casket if the Treasure Trail is complete, can be dug up with a spade. Coordinate clues may take players all over RuneScape, to nearly any geographic region in the game (including the deepest levels of the Wilderness), although coordinate clues will never point players underground or into dungeons or buildings.
Saradomin/Zamorak Wizards
On hard Treasure Trails, digging on the correct spot will cause a Saradomin wizard to appear, which must be defeated before the next clue scroll or the treasure casket may be dug up. If the coordinates are located in the Wilderness, a weaker Zamorak wizard will appear instead. Saradomin wizards are poisonous and use both melee and the Magic spell Saradomin Strike, whereas Zamorak wizards use only the spell Flames of Zamorak. Players who use the special ability of meerkats to dig for the scroll or casket will receive it without triggering a Saradomin or Zamorak wizard.
Due to the current threat of player-killers, if the coordinates for your scroll is near level 36 wilderness it is advisable to use the waka canoe which requires 57 Woodcutting. This can take you to level 36 wilderness so that potential player-killers don't immediately spot you going into the wilderness and kill you. In addition, potential player-killers won't know whether you went into the wilderness or to a different area. As a result, you should go to one or more different locations, and then take the waka to the Wilderness. This is because if another player spots you in the wilderness, they might attempt to kill you.
Even when fighting the Zamorak wizard in the wilderness, another player can interrupt your fight. If you are attacked by a player, you should run either directly south, or into a single-way combat area filled with aggressive monsters. Player killers in pursuit of a target can be interrupted by an aggressive monster in a single-way combat area, provided the target does not retaliate.
A good strategy to use against either wizard (all hard coordinate clues involve one of them) is to bring along a dragon dagger. A dragon dagger's special attack used 4 times can almost kill either wizard with a combat level of about 90. It is also advisable to wear armour that specifically guards against either magic or melee while praying against the other combat form.
The following map may be used to roughly determine the location of a given coordinate clue: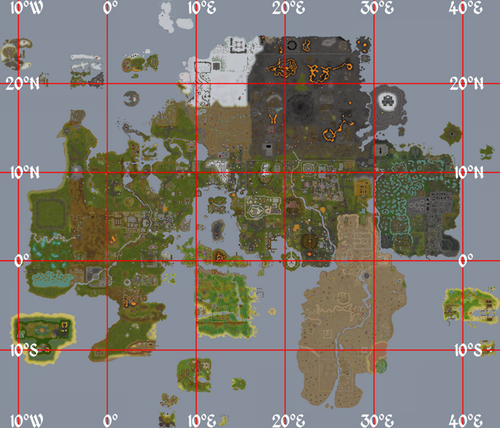 However, precise descriptions for each coordinate clue are listed below.
List of clues
Following is a list of all known coordinate clues and their corresponding locations. The list is organised into ascending numerical value (for example, 00:00 north first, then 00:05 south, then 00:13 north, continuing accordingly). Shorthand writing is used together with normal writing. An example: 09.34N; 25.12E = 09 degrees and 34 minutes north, 25 degrees and 12 minutes east.
Remember: You must have Chart, Sextant, and Watch in your inventory or nothing will happen when you dig with your Spade. Although the chart and watch can be in the toolbelt, remember you must bring the spade and sextant in your inventory.
Note that some of the clues may require skill or quest requirements before you will be able to get to that location. This may be frustrating for some players, and they will drop the clue scroll. So, in order to do every Hard coordinate scroll, Regicide, Legend's Quest, Nature Spirit, The Grand Tree and Watchtower must be done or partially completed to do the coordinates. Note that some coordinates will need a skill level to do, though the required stat is low.
00
Clue

Shorthand

Location

Image

Requirements

Fight?

00 degrees 00 minutes north,
07 degrees 13 minutes west

00.00 N
07.13 W

In Tirannwn, dig by the western spawn point of the roving elves, near the Tyras Camp. Watch out for the stick trap. A Saradomin wizard will attack.

From Tyras Camp: go north past the dense forest, walk a few steps east and go south past the stick traps.

From Lletya: go out of the city, past the trip wire, south over the leaf trap, past the elf tracker, west through the dense forest, over a second trip wire, north through another dense forest, then west and south past the stick trap.

Started Regicide


Saradomin wizard

00 degrees 05 minutes south,
01 degrees 13 minutes east

00.05 S
01.13 E

West of the Tree Gnome Village, almost directly south of the fruit tree patch. On the other side of the river from the observatory.

None

00 degrees 13 minutes south,
13 degrees 58 minutes east

00.13 S
13.58 E

On Karamja, west of the general store in the free-to-play section of the island, in the middle of the two small lakes. Currently there is an "undergrowth" on the location. However the reward can be obtained by digging 1 space south of it.

None

00 degrees 18 minutes south,
09 degrees 28 minutes east

00.18 S
09.28 E

South-west of Brimhaven at the gold mine near the entrance to the Brimhaven Dungeon. Dig 1 space south of the gold rock in front of the dungeon door.

None

00 degrees 20 minutes south,
23 degrees 15 minutes east

00.20 S
23.15 E

The southern area of Lumbridge Swamp, south of the water altar. Just next to the tree roots.

None

00 degrees 30 minutes north,
24 degrees 16 minutes east

00.30 N
24.16 E

Slightly north-east of the small hut in Lumbridge Swamp that leads to Zanaris. Zandar Horfyre offers free transportation to this area.

None

00 degrees 31 minutes south,
17 degrees 43 minutes east

00.31 S
17.43 E

South of Port Sarim, just south of the ladder to the Asgarnian Ice Dungeon, on the edge of the cliff.

None
01
Clue

Shorthand

Location

Image

Requirements

Fight?

01 degrees 18 minutes south,
14 degrees 15 minutes east

01.18 S
14.15 E

Across the water from Musa Point, on the western seaweed spawn next to the river. Tiadeche from the Tai Bwo Wannai Trio quest can be found to the east. Use Fairy Ring code DKP or the Gnome glider transport to Karamja.

None

01 degrees 24 minutes north,
08 degrees 05 minutes west

01.24 N
08.05 W

In an area with a pond directly north of the catapult used in Regicide, dig by the north-east edge of the pond. A Saradomin wizard will appear and attack.

From Lletya: Pass the tree, go west across the tripwire, continue west through the dense forest, continuing west past the Elf musician. Turn north and up the path to Prifddinas. Before the bridge and the water, head west through the dense forest. Then go west past another stick trap.

From Port Tyras: Go north through dense forest then east; go south through dense forest; step over tripwire; go east through the dense forest then north; jump leaves. Finally, continue west till you arrive at a elven lamp next to mushrooms. Head south down the small path to the pond. Pass the stick trap and dig by the north-east edge of the pond.

This clue can be annoying due to the frequency of activating the stick traps, which deal 80 damage. There is a better success rate of passing the trap by turning off run and walking past the trap.

Started Regicide


Saradomin wizard

01 degrees 26 minutes north,
08 degrees 01 minutes east

01.26 N
08.01 E

In the centre of Moss Giant Island west of Brimhaven. The island can be found by swinging on the rope swings west of Brimhaven.

10 Agility

01 degrees 35 minutes south,
07 degrees 28 minutes east

01.35 S
07.28 E

The Green Spider Island east of Yanille. Use Fairy ring code CLS. Dig between a boulder, a leafy tree, and a creeping plant.

None
02
Clue

Shorthand

Location

Image

Requirements

Fight?

02 degrees 46 minutes north,
29 degrees 11 minutes east

02.46 N
29.11 E

Duel Arena in obstacle combat area. You will need to duel another player with obstacles turned on to get to this spot. You will not get the Saradomin Wizard here. You cannot bring Meerkats familiars into the obstacle arena, so bringing a sextant and spade is required.

The assistance of another player

02 degrees 48 minutes north,
22 degrees 30 minutes east

02.48 N
22.30 E

Just west of the ladder leading to the HAM Dungeon, dig 2 spaces east and 1 south of the nearest tree to the building.

None

02 degrees 50 minutes north,
06 degrees 20 minutes east

02.50 N
06.20 E

South of Ardougne Zoo, on a small cape.

None
03
Clue

Shorthand

Location

Image

Requirements

Fight?

03 degrees 35 minutes south,
13 degrees 35 minutes east

03.35 S
13.35 E

On Karamja, north of the nature altar.

None

03 degrees 45 minutes south,
22 degrees 45 minutes east

03.45 S
22.45 E

In the Bedabin camp, at the north side of the watering hole. A Saradomin wizard will appear and attack.

None


Saradomin wizard
04
Clue

Shorthand

Location

Image

Requirements

Fight?

04 degrees 00 minutes south,
12 degrees 46 minutes east

04.00 S
12.46 E

In the centre of the mine, north of Shilo Village. This is not the gem rock mine, but rather the one just northwest of the Nature altar, where you find Volencia moss during the Jungle Potion quest. Dig two spaces northwest of a mithril rock.

None

04 degrees 03 minutes south,
03 degrees 11 minutes east

04.03 S
03.11 E

In the Ogre City. You must have started the Watchtower quest to gain access. After crossing the fourth bridge, stand next to the tree there and dig. A Saradomin wizard will appear and attack. Note: First time crossing you need 20gp and a rock cake.

Started Watchtower Quest


Saradomin wizard

04 degrees 05 minutes south,
04 degrees 24 minutes east

04.05 S
04.24 E

On the island where Gorad is located. From Castle Wars, go east past Jiggig. At the southwestern side of Gu'Tanoth is a cave, enter this cave and you will end up on the island. Dig on the east side of the island, near a spear wall. A Saradomin wizard will appear and attack.

None


Saradomin wizard

04 degrees 13 minutes north,
12 degrees 45 minutes east

04.13 N
12.45 E

North side of Crandor.

Completed Dragon Slayer

04 degrees 16 minutes south,
16 degrees 16 minutes east

04.16 S
16.16 E

Outside the east wall of the Ship yard building where G.L.O. Caranock hangs out, dig directly by the window. A Saradomin wizard will attack.

Started The Grand Tree


Saradomin wizard

04 degrees 41 minutes north,
03 degrees 09 minutes west

04.41 N
03.09 W

Dig by one of the Red spiders' eggs spawns in Arandar Pass. A Saradomin wizard will attack.

Started Regicide


Saradomin wizard
05
Clue

Shorthand

Location

Image

Requirements

Fight?

05 degrees 20 minutes south,
04 degrees 28 minutes east

05.20 S
04.28 E

In the Feldip Hills, northeast of the Glider. Dig at the eastern end of an iron rock mine, between two rock slides.

None

05 degrees 37 minutes north,
31 degrees 15 minutes east

05.37 N
31.15 E

In Mort Myre swamps, over Nature Spirit's grotto, dig to the north of the grotto tree. A Saradomin wizard will appear and attack. Bear in mind that this is a Summoning-free zone, which means the Meerkats' special move cannot be used here.
Warning: Druid pouches are recommended, because ghasts may rot your food.

Started Nature Spirit


Saradomin wizard

05 degrees 43 minutes north,
23 degrees 05 minutes east

05.43 N
23.05 E

In the cow pasture, directly across the River Lum from the Champions' Guild bush farming patch.

None

05 degrees 50 minutes south,
10 degrees 05 minutes east

05.50 S
10.05 E

On Cairn Isle, Karamja, (Fairy Ring - CKR is very close) dig in the centre of the hut with the broken walls, near one of the chameleon egg spawns. A Saradomin wizard will attack. Remember to switch run mode off when crossing the bridge.

15 Agility


Saradomin wizard
06
07
Clue

Shorthand

Location

Image

Requirements

Fight?

07 degrees 05 minutes north,


30 degrees 56 minutes east

07.05 N
30.56 E
In Mort Myre Swamp. Next lake south of the 2 most western fishing spots. Dig west of a rotting tree. Note: There are Ghasts in the swamp, be sure to bring a Druid Pouch or an Ouroboros Pouch.
None, but the use of a POH Kharyll teleport (or normal spellbook verson) may be useful.
07 degrees 33 minutes north,


15 degrees 00 minutes east

07.33 N
15.00 E
South east of Taverley, on the peninsula where the The Lady of the Lake resides. Dig on the south-west part of the peninsula.

None
07 degrees 43 minutes south,


12 degrees 26 minutes east

07.43 S
12.26 E
In the middle of the Kharazi Jungle, two steps south of the water pool. Remember to bring your Radimus notes if you have not finished Legends' Quest. A Saradomin wizard will attack.

Started Legends' Quest

Saradomin wizard
08
Clue

Shorthand

Location

Image

Requirements

Fight?

08 degrees 03 minutes north,
31 degrees 16 minutes east

08.03 N
31.16 E

South-west of BKR fairy ring (more precisely WSW) and slightly north-east of the fishing spot (the one just south-west of the words Morytania on the map), in the centre of Mort Myre swamp. Dig between the farthest east and middle logs. A Saradomin wizard will attack.
Warning: Bring druid pouches to prevent Ghasts from rotting your food.

None


Saradomin wizard

08 degrees 05 minutes south,
15 degrees 56 minutes east

08.05 S
15.56 E

In the south-west part of the Herblore Habitat area. A quick way of getting to the Herblore Habitat Area is to buy special teleports from Bettamax in the centre of Taverley for 2000gp. A Saradomin wizard will attack.

None


Saradomin wizard

08 degrees 26 minutes south,
10 degrees 28 minutes east

08.26 S
10.28 E

In the south-west corner of the Kharazi Jungle on Karamja. Dig north of a skeletal corpse. A Saradomin wizard will attack. Remember to bring a hatchet and a machete (and your Radimus notes if you have not finished Legends' Quest) to cut through the jungle.

Started Legends' Quest


Saradomin wizard

08 degrees 33 minutes north,
01 degrees 39 minutes west

08.33 N
01.39 W

At Tree Gnome Stronghold, in the south-west section you'll find a bridge, and a pen containing Terrorbirds. Open the gate by them and go to the edge of the river as far east as you can and dig there.

None
09
Clue

Shorthand

Location

Image

Requirements

Fight?

09 degrees 33 minutes north,
02 degrees 15 minutes east

09.33 N
02.15 E

Go to the Baxtorian Falls, board the log raft, use a rope with the rock to get to the second island with the tree and dig in the centre of that island.

Started Waterfall Quest

09 degrees 48 minutes north,
17 degrees 39 minutes east

09.48 N
17.39 E

On Ice Mountain, south of the oracle, in an area where there are icefiends.

None
11
Clue

Shorthand

Location

Image

Requirements

Fight?

11 degrees 03 minutes north,
31 degrees 20 minutes east

11.03 N
31.20 E

East of the fence opening to the Slayer Tower grounds.

None

11 degrees 05 minutes north,
00 degrees 45 minutes west

11.05 N
00.45 W

In the Tree Gnome Stronghold swamp, west of the Grand Tree.

None

11 degrees 41 minutes north,
14 degrees 58 minutes east

11.41 N
14.58 E

Near Commander Denulth in Burthorpe.

None
12
Clue

Shorthand

Location

Image

Requirements

Fight?

12 degrees 48 minutes north,
20 degrees 20 minutes east

12.48 N
20.20 E

Three squares east of the ladder which gives you access to the Air Obelisk in level 7 wilderness. Can only be accessed via the Edgeville Dungeon. A Zamorak wizard will attack.

None


Zamorak wizard
13
Clue

Shorthand

Location

Image

Requirements

Fight?

13 degrees 46 minutes north,
21 degrees 01 minutes east

13.46 N
21.01 E

Near the previous location of Stealing Creation in level 11 Wilderness. There are 3 small mushrooms and lots of trees, dig in the centre of the mushrooms. A Zamorak wizard will attack.

None


Zamorak wizard
14
Clue

Shorthand

Location

Image

Requirements

Fight?

14 degrees 54 minutes north,
9 degrees 13 minutes east

14.54 N
09.13 E

Two paces west of the enchanted lyre swaying tree which is east of Rellekka.

None
15
Clue

Shorthand

Location

Image

Requirements

Fight?

15 degrees 48 minutes north,
13 degrees 52 minutes east

15.48 N
13.52 E

Just south-west of entrance to Eadgar's cave. By Trollheim teleport. A Saradomin wizard will attack.

Completed Troll Stronghold


Saradomin wizard
16
Clue
Shorthand
Location
Image
Requirements
Fight?
16 degrees 03 minutes north,


14 degrees 07 minutes east

16.03 N
14.07 E
On the Trollheim summit, near the entrance to Eadgar's cave.

Completed Troll Stronghold

Saradomin wizard
16 degrees 20 minutes north,


12 degrees 45 minutes east

16.20 N
12.45 E
In front of the entrance to the Troll cave in Troll Stronghold. A Saradomin wizard will attack.

Completed Troll Stronghold
Saradomin Wizard
16 degrees 35 minutes north,


27 degrees 01 minutes east

16.35 N
27.01 E
In level 22 Wilderness, west of the green dragons. Near the previous location of Clan Wars. A Zamorak wizard will attack.

None

Zamorak wizard
16 degrees 43 minutes north,


19 degrees 13 minutes east

16.43 N
19.13 E
At the Bandit Camp in the level 23 Wilderness, dig south of the most northern lake in the northern-east corner, near the Giant rats. A Zamorak wizard will attack.NOTE: Since the December 2011 Wilderness graphical update, this exact coordinate is covered by a wall. Digging one pace east of the northern point of that wall should yield your casket or scroll.

None

Zamorak wizard
17
Clue

Shorthand

Location

Image

Requirements

Fight?

17 degrees 50 minutes north,
08 degrees 30 minutes east

17.50 N
08.30 E

North east of Rellekka by the rock crabs. North west of DKS fairy ring. Dig a bit east of the pier, on one of the seaweed spawns. A Saradomin wizard will attack.

None


Saradomin wizard
18
Clue

Shorthand

Location

Image

Requirements

Fight?

18 degrees 3 minutes north,
25 degrees 16 minutes east

18.03 N
25.16 E

Level 28 wilderness, in the far east building of the Ruins north of the Graveyard of Shadows (the Summer's End farm). Dig on or near the steel platelegs spawn. A Zamorak wizard will attack.

None


Zamorak wizard

18 degrees 22 minutes north,
16 degrees 33 minutes east

18.22 N
16.33 E

Level 29 wilderness just North-west from Bandit Camp, in the south-west section of the Forgotten Cemetery. Dig directly south of one of the graves, located in the second column from

the south. A Zamorak wizard will attack.

None


Zamorak wizard
19
Clue

Shorthand

Location

Image

Requirements

Fight?

19 degrees 43 minutes north,
25 degrees 07 minutes east

19.43 N
25.07 E

Level 34 wilderness just a little south-east of the Southern side of Red Dragon Isle by some Chaos Dwarves, you should see 4 large cave like objects. Dig almost directly in the centre of them. A Zamorak wizard will attack. This place is easily accessible via the canoe system, just keep heading east from your point of arrival. Warning: This area is multicombat.

None


Zamorak wizard
20
Clue

Shorthand

Location

Image

Requirements

Fight?

20 degrees 05 minutes north,
21 degrees 52 minutes east

20.05 N
21.52 E

In level 36 wilderness, just north of a small lake by some moss giants. This can be difficult because of the nearby moss giants and skeletons. The wilderness canoe exit is a quick way to get here. If you start just west of the westernmost tip of the lake, walk 9 paces north and dig. A Zamorak wizard will attack.

None


Zamorak wizard

20 degrees 7 minutes north,
18 degrees 33 minutes east

20.07 N
18.33 E

In level 36 wilderness, just beneath the lava maze, 3 paces west of the eastern most set of iron rocks in the hobgoblin mine. Dig just west of a cluster of 8 iron rocks. A Zamorak wizard will attack.

None


Zamorak wizard

20 degrees 33 minutes north,
15 degrees 48 minutes east

20.33 N
15.48 E

Level 38 wilderness, the very west side where there is a Chaos Temple. Dig outside the building, just to the south of the altar. A Zamorak wizard will attack.
Warning: This area is a known hotspot for player killers, and certain areas around the altar are multicombat.

None


Zamorak wizard
21
22
Clue

Shorthand

Location

Image

Requirements

Fight?

22 degrees 30 minutes north,
03 degrees 01 minutes east

22.30 N
03.01 E

At the end of the path leading to the northern houses in Miscellania. Use fairy ring code CIP.

Completed The Fremennik Trials

22 degrees 35 minutes north,
19 degrees 18 minutes east

22.35 N
19.18 E

South of a coal rock and west of a rune rock just north of the lava maze, in level 46 wilderness. A Zamorak wizard will attack.
Warning: This area is a known hot-spot for player killers, and the areas surrounding it are multicombat.

None


Zamorak wizard

22 degrees 45 minutes north,
26 degrees 33 minutes east

22.45 N
26.33 E

At Demonic ruins level 47 Wilderness, middle of north-east room. Dig on the north-east pentagram, near one of the Burnt bones spawns. Make sure you have ground decorations turned on, or you won't be able to see the pentagrams. A Zamorak wizard will attack.
Warning: This area is multicombat, and a known hot-spot for player killers.

None


Zamorak wizard
24
Clue

Shorthand

Location

Image

Requirements

Fight?

24 degrees 24 minutes north,
26 degrees 24 minutes east

24.24 N
26.24 E

Inside the Rogues' Castle in level 53 wilderness, just north of the north-west tower. A Zamorak wizard will attack.
Warning: The Chaos Elemental lurks near the tower, and can hit very hard from all three corners of the combat triangle. In addition, the area is multicombat and a popular hot-spot for player killers.

None


Zamorak wizard

24 degrees 56 minutes north,
22 degrees 28 minutes east

24.56 N
22.28 E

A little bit north of the spider web in level 55 wilderness, north of the lever to teleport to Ardougne. A Zamorak wizard will attack.
Warning: This area is a known hot-spot for player killers.

None


Zamorak wizard

24 degrees 58 minutes north,
18 degrees 43 minutes east

24.58 N
18.43 E

Behind the Pirates' hideout in the level 56 wilderness - You have to dig directly north of the Pirate's bar - the casket is near the north-western corner. A Zamorak wizard will attack.

None


Zamorak wizard
25
Template:Checkftw