Trapdoor shortcuts are shortcuts made by accessing a trapdoor which leads to a different location. Trapdoors can be upgraded to shortcuts as rewards for completing minigames, quests, and tasks.
Located near the north-western corner of the Grand Exchange, and provides access to Keldagrim. The message when opening the Grand Exchange trapdoor says: This trapdoor leads to a small dwarven mine cart station. The mine cart will take you to Keldagrim.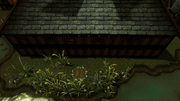 Uses the same trapdoor behind the Hair of the Dog tavern in Canifis. The shortcut is obtained by training Zachory Bragg in Temple Trekking to level 99. In order to use this shortcut, the option must be toggled on in the character interface by clicking on Zachory Bragg's level 99 description. The shortcut places the player's character next to the swamp boat in south-eastern Mort'ton.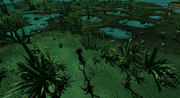 The northern gate of Mort Myre also acts as a quick teleport to the Nature Grotto. This shortcut can be unlocked after training the Temple Trekking companions to a total level of 100 or higher.
NPCs
Monsters
Tomes
Rewards

| | |
| --- | --- |
| Follower rewards | |
| Other rewards | |

Related
Ad blocker interference detected!
Wikia is a free-to-use site that makes money from advertising. We have a modified experience for viewers using ad blockers

Wikia is not accessible if you've made further modifications. Remove the custom ad blocker rule(s) and the page will load as expected.