Trapdoor Shortcut
Discuss

0
22,527pages
on this wiki
Some trapdoors lead only to ladders, others take you to different locations quickly. Some trapdoors can be upgraded to shortcuts as rewards for completing activities/quests/tasks.
A
Trapdoor Shortcut
in Canifis to Mort'ton - Obtained by training
Zachory Bragg
to level 99. This shortcut uses the same trapdoor behind the tavern in Canifis. In order to use this shortcut, the option must be toggled on in the character interface by clicking on Zachory Bragg's level 99 description. The shortcut places the player's character next to the swamp boat in south-eastern Mort'ton.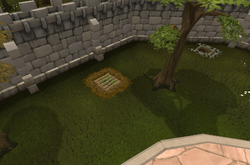 The Hidden trapdoor is a Trapdoor Shortcut and can be found in the north-west of the Grand Exchange. The trapdoor was released on 26 November 2007 along with the Grand Exchange but had no use until the release of Forgiveness of a Chaos Dwarf on 9 September 2009, when it was updated so players could use it to take a free mine cart trip to Keldagrim. This was done to make Keldagrim more accessible. Before the release of the mine cart station many players speculated about what was under the trapdoor. Many players believed that it would be used in a future quest. If you haven't visited Keldagrim, and attempt to use the trapdoor, you will get a message saying "You must visit Keldagrim to use this shortcut". Before the release of the trapdoor, players had to travel through a cave northeast of Rellekka to reach Keldagrim, or use the Mine Cart system.
The Northern Gate of Mort Myre also acts as a quick teleport to the Nature Grotto after training the companions to a total level of 100 or higher in Temple Trekking.