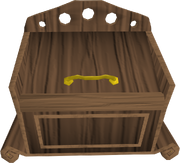 Toy box is a hot spot found in the costume room of a player-owned house. Toy boxes are used to store any toys that are untradeable. Toys are usually obtained during festivities such as Christmas, Easter and Halloween. However, certain tradeable items such as partyhats cannot be stored in this box. It shares the same interface and items that Diango and Ianto have for reclaiming items.
If an item that can be kept in the toy box is with Diango or has been destroyed, it will appear in the toy box automatically.
Note that while rewards from Treasure Hunter can be reclaimed from Diango like holiday event items, they can not be reclaimed from a player's toy box.
Toy boxes
Edit