Tower mindspike
Discuss

0
26,456pages on
this wiki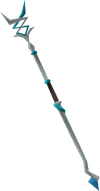 The tower mindspike is a staff obtained during Rune Mysteries. After the completion of Rune Mysteries, players can right-click it to access the "change element" option (which is only available whilst the mindspike is unequipped) - the staff's element may be changed into any of the four basic elements: air, water, earth or fire. Changing the element of the staff will change its colour and the rune which it provides. The staff's current element is shown in parentheses at the end of the item name (e.g. Tower mindspike (air)). The staff acts as a replacement for the elemental rune to which it corresponds when casting a spell, similar to elemental staffs such as the Staff of Fire.
It was the first mindspike available to free players.
The tower mindspike is slightly better in melee and magic based combat than the elemental staffs and the magic staff.
Combat Stats

Skill requirements
None

| Class | Slot |
| --- | --- |
| Magic | |

Weapons
Main
Off
Damage
-
-
Accuracy
160
-
Style
-
-
Attributes
Armour rating

0

Life bonus

0

Prayer bonus

0

Style bonuses

0

0

0

Attack speed

Average

Interval: 3.6 seconds

Compare item

[view] • [talk]