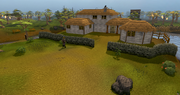 The Tourist Information Centre sits just to the south of the Baxtorian Falls. Hadley is the tourist information officer. The centre is visited during the Waterfall Quest, and the Book on Baxtorian can be found upstairs in a bookcase. Gerald can be found near the river just south of the centre, and Rasolo can be found wandering outside.
Related to the Elf quest series
NPCs
Items
Locations
Tourist Information Centre
Music
Miscellaneous
Ad blocker interference detected!
Wikia is a free-to-use site that makes money from advertising. We have a modified experience for viewers using ad blockers

Wikia is not accessible if you've made further modifications. Remove the custom ad blocker rule(s) and the page will load as expected.