Torva equipment
Discuss

64
22,529pages
on this wiki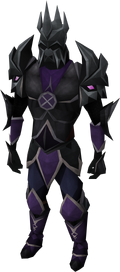 Torva armour is a set of degradable high level melee equipment that requires 80 Defence and 80 Constitution to wear. It was first mentioned on 3 January 2011[1] and released into the game on 10 January 2011[2]. Torva armour pieces may only be obtained as rare drops from Nex , the boss of the Zarosian stronghold of the God Wars Dungeon, the Ancient Prison. It is the melee companion armour set to Virtus equipment and Pernix armour, which are Magic and Ranged sets, respectively.
As level 80 equipment, Torva armour is currently the second highest-level melee armour in the game, behind Tetsu armour.
Wearing any piece of Torva, Pernix, or Virtus armours, or wielding a zaryte bow, will cause all factions of monsters in the God Wars Dungeon (aside from bosses and zarosian monsters in the Ancient Prison) to be unaggressive.
Torva armour is named and modelled after Torva, an elite warrior who served in Zaros' army during the Second Age.
Degrading and repair
Edit
The largest drawback to this armour set is that it degrades after 10 hours of combat. The pieces do not degrade in increments, rather they retain their stats throughout the ten hours and then immediately drop to zero. The amount of time remaining is recorded in-game in increments of one percent. This percentage can be checked by right-clicking the armour piece and selecting 'check-charge' while it is either in your inventory or equipped. Each individual item in the set has a charge value that must be replenished either at Bob's Brilliant Axes or at an armour stand in a player-owned house. Repair costs at an armour stand decrease linearly based on the player's Smithing level, which can be boosted, but not assisted.
Torva Set Repair Cost
Piece
Bob's Brilliant Axes

Armour stand with 100 Smithing

Torva full helm
 

500,000

coins
 

250,000

coins

Torva platebody
 

2,000,000

coins
 

1,000,000

coins

Torva platelegs
 

1,000,000

coins
 

500,000

coins

Torva gloves
 

100,000

coins
 

50,000

coins

Torva boots
 

100,000

coins
 

50,000

coins
Full set
 

3,700,000

coins
 

1,850,000

coins
Torva Grand Exchange Cost 
Torva full helm
 

66,257,359

[view] 
Torva platebody
 

128,271,121

[view] 
Torva platelegs
 

93,060,277

[view] 
Torva gloves
 

44,171,169

[view] 
Torva boots
 

40,563,707

[view]
Total
 

372,323,633

coins
[view]
•
[talk]



Item

Mainhand Info

Offhand Info

Attributes

Critical bonuses

Style

Dmg
Acc

Style

Dmg
Acc
Full helm
N/A
15
0
N/A
8
0
338
840
2
0%
0%
0%
Platebody
N/A
26
0
N/A
14
0
389
1680
3
0%
0%
0%
Platelegs
N/A
19
0
N/A
9
0
372
1260
2
0%
0%
0%
Boots
N/A
7
0
N/A
4
0
84
210
2
0%
0%
0%
Gloves
N/A
7
0
N/A
4
0
84
210
2
0%
0%
0%

Totals

N/A
74
0
N/A
39
0
1267
4200
11
0%
0%
0%
Set effect (After 30th april 2013)
Edit
In addition, a set effect is activated when wearing all of the above pieces of equipment. Wearing these pieces of equipment will yield an extra 23 damage in addition to the regular damage bonus from each individual piece. The total damage bonus from wearing all pieces of Torva armour is therefore 74.
"Torva" is Latin for "savage", "grim", "fierce", or "wild"[3].
Torva armour looks quite similar to the armour of Lord Sulla on the front page of the book RuneScape: Betrayal at Falador.
When first released, Torva, Pernix, and Virtus items became untradeable once degraded and repaired. This was flagged as a glitch and soon fixed.
Ancient warriors wear a light brown version of this.
Max can be seen wearing parts of this armour.
In the promotional video for the return of free trade and the wilderness, some players could be seen wearing Torva armour even though it had not been released. The video was uploaded on 10 December 2010 which is about a month before it came out.
Torva armour, along with many other armours, received a graphical rework on 6 March 2012. Pernix and Virtus armours were not updated until 5 September 2012.
The minimum combat level required to wear Torva armour is 162.
Whenever Nex drops a piece of Torva, Pernix, or Virtus armour, a server wide announcement is broadcast to all players currently logged into that particular world.
References
Edit
Godswords

Armadyl • Bandos • Saradomin • Zamorak

Robes of subjugation
Armadyl armour

Helmet • Chestplate • Chainskirt • Gloves • Boots • Buckler

Bandos armour
Torva armour
Pernix armour
Virtus armour
Ancient ceremonial robes
Frozen key

Frozen key • Armadyl • Bandos • Saradomin • Zamorak

Weapons

Saradomin sword • Zamorakian spear • Armadyl crossbow • Steam battlestaff • Zaryte bow • Virtus wand • Book

Amulets
Books

Armadyl's assault • Zilyana's notes • The glory of general graardor • Nex's followers • Razulei's tale

Soulstones

Armadylean soulstone • Bandosian soulstone • Saradominist soulstone • Zamorakian soulstone