Torva equipment
Discuss

64
22,528pages
on this wiki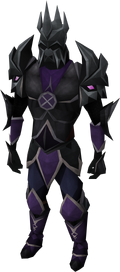 Torva armour is a five-pieced degradable melee armour set which may be obtained as a drop from Nex in the Zaros themed God Wars Dungeon expansion, first mentioned on 3 January 2011[1] and released on 10 January 2011[2]. The Torva melee armour set has a requirement of level 80 Defence, 80 Constitution, and 80 Strength to equip. It possesses the highest defensive stats for any armour set outside of the Dungeoneering armour sets[1].
This armour also has a special effect. Each piece of the set boosts the wearer's maximum life points. In total, the full Torva set boosts a player's life points by 450. This special effect also increases the amount of life points healed by Saradomin brews and the healing aura special move of the unicorn stallion, as the effects of such items depend on a player's maximum number of life points when calculating how much they heal.
All pieces of the armour set are dropped exclusively by Nex. In addition to their individual effects, having any Torva, Pernix, or Virtus item equipped counts as a god item for all four factions in God Wars Dungeon, causing all members of the warring factions to become passive to the player. However, the armour does not cause the God Wars bosses or their body guards to become docile towards the player.
Degrading and repair
The largest drawback to this armour set is that it degrades after 10 hours of combat. The pieces do not degrade in increments, rather they retain their stats throughout the ten hours and then immediately drop to zero. The amount of time remaining is recorded in-game in increments of one percent. This percentage can be checked by right-clicking the armour piece and selecting 'check-charge' while it is either in your inventory or equipped. Each individual item in the set has a charge value that must be replenished either at Bob's Brilliant Axes or at an armour stand in a player-owned house. Repair costs at an armour stand decrease linearly based on the player's Smithing level. The cost is exactly half with a Smithing level of 100. Boosts such as the Smithing skillcape work.
Torva armour could be repaired for a small price if the piece has degraded slightly, but not enough to drop the percentage to below 100% since an update on 13 March 2012.
Torva Set Repair Cost
Piece
Bob's Brilliant Axes

Armour stand with 99 Smithing

Torva full helm
 

500,000

coins
 

250,000

coins

Torva platebody
 

2,000,000

coins
 

1,000,000

coins

Torva platelegs
 

1,000,000

coins
 

500,000

coins
Full set
 

3,500,000

coins
 

1,750,000

coins
Price
Due to the rarity of the armour, the price of a set of torva on the Grand Exchange is in the hundreds of millions.
Torva Set Grand Exchange Cost

Torva full helm
 

66,257,359

coins

Torva platebody
 

128,271,121

coins

Torva platelegs
 

93,060,277

coins

Torva gloves
 

44,171,169

coins

Torva boots
 

40,563,707

coins
Full set
 

372,323,633

coins
Stats
Type Unknown
edit


Item

Mainhand Info

Offhand Info

Attributes

Critical bonuses

Style

Dmg
Acc

Style

Dmg
Acc

Full helm
0
0
0
-7
-3
+68
+73
+65
-2
+74
+17
+3
0
+1
0%
3%
0%
6%
+66

Platebody
0
0
0
-31
-11
+156
+140
+120
-10
+160
+65
+4
0
+1
0%
6%
0%
12%
+200

Platelegs
0
0
0
-21
-8
+112
+100
+95
-5
+125
+32
+2
0
+1
0%
4%
0%
8%
+134

Boots
+1
+1
+1
-5
-5
+22
+23
+24
-10
0
0
+4
0
+1
0%
0%
0%
0%
+25

Gloves
+13
+15
+13
-5
-5
+18
+16
+16
-5
+14
0
+13
0
+1
0%
0%
0%
0%
+25

Totals

+14
+16
+14
-69
-32
+376
+352
+310
-32
+373
+114
+26
0
+5
0%
13%
0%
26%
+450
Trivia
"Torva" is Latin for "savage, grim, fierce, or wild"[3].
The Torva armour looks quite similar to the armour of Lord Sulla on the front page of the book RuneScape: Betrayal at Falador.
This item, along with the other Ancient Armour pieces, originally had a glitch which did not allow them to be traded even after being fixed. This has since been fixed.
Ancient warriors wear a light brown version of this.
Max can be seen wearing parts of this armour.
In the promotional video for the return of free trade and the wilderness, some players could be seen wearing torva armour even though it had not been released. The video was uploaded on 10 December 2010 which is about a month before it came out.
Torva platebody had a backpack update which causes it to look different in inventory
The Torva armour, along with many other armours, received a graphical rework on 6 March 2012. The other ancient armour sets (namely, Pernix and Virtus) did not receive a graphical rework with this update.
The lowest combat level possible to wield torva armour is 66 with all strength, defence and constitution at level 80 and prayer, summoning, attack, range and magic at level 1
Whenever Nex drops a piece of torva, pernix, or virtus armour, a server-wide announcement is broadcast to all players currently logged into that particular world.
See also
Gallery
References
Godswords

Armadyl • Bandos • Saradomin • Zamorak

Robes of subjugation
Armadyl armour

Helmet • Chestplate • Chainskirt • Gloves • Boots • Buckler

Bandos armour
Torva armour
Pernix armour
Virtus armour
Ancient ceremonial robes
Frozen key

Frozen key • Armadyl • Bandos • Saradomin • Zamorak

Weapons

Saradomin sword • Zamorakian spear • Armadyl crossbow • Steam battlestaff • Zaryte bow • Virtus wand • Book

Amulets
Books

Armadyl's assault • Zilyana's notes • The glory of general graardor • Nex's followers • Razulei's tale

Soulstones

Armadylean soulstone • Bandosian soulstone • Saradominist soulstone • Zamorakian soulstone