Torsteg is a mighty Fremennik who can be found at Daemonheim, which is in the eastern Wilderness. Until the release of the Dungeoneering skill, he guarded Daemonheim along with Hilda. Before it was opened on 12 April 2010, it was known that the place was the source of the strange power. He is back now guarding the gate.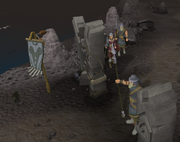 If a player persisted on going through the gate, Torsteg would interrupt the player with the line "YOU SHALL NOT PASS!" which was uttered by Gandalf in the film The Fellowship of the Ring.
One of the ghosts in Daemonheim looks like him. This ghost is found near the far west of Daemonheim.
After the Wilderness update in 1 February 2011, he can be seen in front of Daemonheim gate.
Ad blocker interference detected!
Wikia is a free-to-use site that makes money from advertising. We have a modified experience for viewers using ad blockers

Wikia is not accessible if you've made further modifications. Remove the custom ad blocker rule(s) and the page will load as expected.