Torag the Corrupted's equipment
Discuss

11
22,517pages
on this wiki
Torag the Corrupted's equipment is obtainable from the Barrows minigame. Completing the Barrows minigame does not guarantee players will get a Barrows item. The set consists of a helmet, platebody, platelegs, and a two-handed hammer. Torag's set requires 70 Defence to wear the armour and 70 Attack and 70 Strength to wield the weapon. 
The hammer tied with the Verac's Flail carries the 3rd highest Crush bonus, potentially making them useful for enemies with a crush weakness.
Grand Exchange clerks can exchange the set for the Torag's platebody, helmet, platelegs, and hammer.
Prior to the Evolution of Combat update, Torag's hammers were two weapons held in both hands.
Set effect
Edit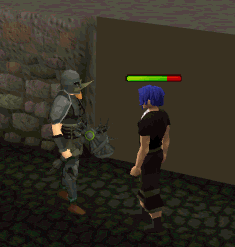 Corruption: Successful melee attacks have a chance of lowering the victim's adrenaline by 20%. It can only be used in PVP minigames or in the Wilderness when player killing.
Torag's set effect, since the January 2013 update, is regarded by many as one of the more desirable set effects out of all the Barrows armour, as it drains your opponent's adrenaline. Draining adrenaline is commonly seen as a priority for PKers. 
After the release of the Evolution of Combat, the set effects for Torag's and Karil's had been temporarily removed. On Jan 14, 2013, there was an armour update adding set effect descriptions to all Barrows armours, and it was confirmed that while wearing the full set, it can drain an opponent's adrenaline.
Torag's Equipment Grand Exchange Cost 
Torag's helm
 

206,533

[view] 
Torag's platebody
 

345,557

[view] 
Torag's platelegs
 

393,830

[view] 
Torag's hammer
 

248,155

[view]
Total
 

1,194,075

coins 
Barrows - torag's set
 

1,383,401

[view]
[view]
•
[talk]
Torag's Equipment 0 Grand Exchange Cost 
Torag's helm 0
 

69,601

[view] 
Torag's platebody 0
 

173,407

[view] 
Torag's platelegs 0
 

173,896

[view] 
Torag's hammer 0
 

98,183

[view]
Total
 

515,087

coins
[view]
•
[talk]
Components and Bonuses
Edit
Ahrim the Blighted

Set • Hood • Top • Robe skirt • Staff • Book of magic • Wand

Dharok the Wretched
Guthan the Infested

Set • Helm • Platebody • Chainskirt • Warspear

Karil the Tainted

Set • Coif • Top • Skirt • Crossbow • Pistol crossbow (Offhand) • Bolt rack

Torag the Corrupted
Verac the Defiled

Set • Helm • Brassard • Plateskirt • Flail

Akrisae the Doomed

Set • Hood • Robe top • Robe skirt • War mace

Other

Culinaromancer's gloves 10 (barrows-themed gloves)