The
Tool belt
is a utility belt that can be accessed in the
Worn Equipment
screen. It allows players to carry and use basic tools anytime without taking up space in their
inventory
. This includes items such as a
pickaxe
,
hatchet
,
hammer
,
tinderbox
,
fishing rods
, crafting and farming tools. It was released on
6 December
2011
along with the
Money pouch
.
It has no requirements and does not take up any inventory space. It also does not contribute towards the player's weight. Items can be added to the tool belt by right-clicking on an item while it is in the player's inventory and selecting the Add-to-tool belt option. Following an update on 13 March 2012, all non-quest items are automatically added to a players tool belt. Once the items are added, they remain there and cannot be retrieved. Upon death, all items in the tool belt are kept. This is true even when the player is skulled or dies in the wilderness.
Because of the tool belt, players are now able to click on resources instead of having to use a tool on the resource. For example, players can click on a log to light it instead of using a tinderbox on every individual log. Alternatively, right-clicking on a log gives a list of other possible actions that can be used with the log.
Currently, only the bronze pickaxe and hatchet can be added to the belt, making the tool belt unsuitable for use in training woodcutting and mining at higher levels. It is still best to equip pickaxes and hachets to be able to use all 28 inventory spaces while mining or chopping. Though not helpful for woodcutting and mining, the tool belt is quite useful for many other skills, for most quests, or during general exploring as you no longer have to worry about taking up inventory space carrying basic items wherever you go.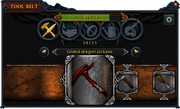 There are currently 39 item slots in tool belt divided into 4 categories.
General Items
Edit
Fishing Items
Edit
Crafting Items
Edit
Farming Items
Edit
Once an item is added to the tool belt, actions that would normally require using a tool on an item become options on the item to be manipulated. For example, once a tinderbox is added to the tool belt, a player can right-click a log and choose the Light option. Be careful left-clicking craftable items like Unicorn horns as this could lead to a player's character performing an action the player did not intend.
Free-to-play tools are available for use on free-to-play servers. Thus, as an example, a free-player may light logs using a stored tinderbox, saving bank space on the numerous tools used.
Restricted usages and bugs
Edit
Fixed bugs
Edit
Upon release, you could not use the knife on the tool belt to skin dead giant snakes in Temple Trekking/Burgh de Rott Ramble. This bug has been fixed.
Upon release, you could not use the secateurs on the tool belt to gather branches from a player-grown willow tree, despite the provision of a right click Gather-Branches option. This right click option does now work for one branch at a time (see Restricted Usages and Bugs, above).
At one point, if you had an item considered as a weapon in your tool belt during Roving Elves quest, you would not be able to enter Glarial's Tomb. This glitch has since been fixed.
Players could not use the knife on the tool belt to make chopped onions when the tool belt was first released, they could not even make them when they also have a knife in their inventory. This was fixed on 12 December 2011.
Players couldn't chisel detail on the statue in Enakhra's Lament using the chisel on the tool belt. This was reported as fixed in an update on 2 February 2012.
On the day of release a new task, Shear Convenience was added into Lumbridge/Draynor Beginner Tasks to introduce the tool belt to players. It gave a reward of 500 experience, making it one of the biggest rewards for a beginner task.
If your character has the requirements to catch fish barehanded, you will do so instead of using your tool for catching the fish.
With the addition of the tool belt, many inventory space saver items became much less useful, for example the dwarven army axe and the quest kit, yet they have stronger tools (better metal hatchets/pickaxes). However, many inventory space saver items were made obsolete after the release of toolbelt, including but not limited to: Small cast net, Big cast net, Barb-tail harpoon, Golden hammer.
A hammer stored on a tool belt can be used to open the Bandos door in the God Wars Dungeon.
Control panel

| | |
| --- | --- |
| Top | Combat styles • Tasks • Stats (Target System) • Quest List(Quest Overview) • Inventory (Money pouch) • Worn Equipment (Equipment Stats) (Items Kept on Death) (Toolbelt) (Customisation) • Prayer screen • Spellbook |
| Bottom | Extras (Squeal of Fortune) • (Solomon's General Store) • (Customisation) • Friends List (Ignore List) • Friends Chat • Clan Chat • Options • Emotes • Music Player • Notes |

Minimap

Logout button • Advisor system • Compass • XP Counter • World map • Constitution Status Globe • Prayer Status Globe • Energy Status Globe • Summoning Status Globe • Money Pouch Globe (Price Checker)

Other

Assist System • Chat (Quick Chat)(Spam filter)(News) • Choose Option • Developer console • Game controls • Main Menu • Make-X • Trading interface