The Tirannwn quiver 1 is a reward from completing the easy Tirannwn tasks given to you by the Elf Tracker near the Tirannwn lodestone, and can be retrieved from him for free if lost. It is used in the ammo slot and gives a Prayer bonus of 1. Up to 20,000 ammo of a single type can be stored in the quiver. On death, no ammo is lost when the quiver is kept or retrieved.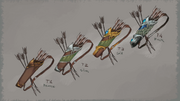 Combat Stats
Requirements
Tier
Unknown edit
None
Class
Slot
Attributes
All
Armour
0
Life points
0
Weapons
Main
Off
Prayer
1
Damage
-
-
Damage reduction
Accuracy
-
-
PvM:

0%

PvP:

0%

Style
-
Style bonuses
Range
-

0

0

0

[FAQ] • [doc]
Ad blocker interference detected!
Wikia is a free-to-use site that makes money from advertising. We have a modified experience for viewers using ad blockers

Wikia is not accessible if you've made further modifications. Remove the custom ad blocker rule(s) and the page will load as expected.