Timepiece
Discuss

6
22,463pages
on this wiki
This article is about the item used as a timer. For the item used to navigate Treasure Trails, see
Watch
.

The Timepiece is an item that players can use as a timer in their own games or activities. The item is variably called Timepiece (stopped), Timepiece (running) or Timepiece (paused), depending on its current status. It was released with the Faruq's Tools for Games update of 15 July 2009. Players can buy it in its default state of "stopped" from Faruq in Al Kharid for 18 coins.
They can then left-click on it to start it counting in whole seconds, whereupon it will become a timepiece (running). They can then left-click on it at an arbitrary time to pause it, when it will become a timepiece (paused). Whether it is running or not, they can right-click on it and select "read timepiece" to find the number of seconds elapsed whilst it has been running.
Players can right-click the timepiece and select "advanced" to access two further functions. One of these is "reset timepiece", to pause it (if it is running) and reset the timer to zero. The other is "read time to friends chat members", which will announce the number of seconds elapsed in the friends chat.
Players must reset the timepiece before they can deposit it in the bank, which will help to ensure that they do not forget to reset it before using it again at a later date. They can withdraw this item from the bank in note form, and it is tradeable (both to other players and to a general store), but it is not tradeable on the Grand Exchange. When trading with another player, its value is reported as 18 coins, the purchase price from Faruq.
The timepiece measures time in days (d), hours (h), minutes (m), and seconds (s). Months, weeks, and other units of time are not shown.
Players can use the timepiece to measure many things, such as the time it takes for ores to respawn, plants to grow, or running/walking distances from between places.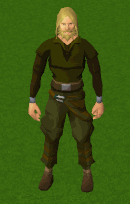 The examine information refers to the old riddle, "What has hands and a face but no arms?".
Surprisingly, the timepiece continues to run upon death, under your gravestone.
Unlike the Ticker, which has a limit of 1000 ticks, there are no known limits on the timepiece for how long it can run.
Some players attempt to use this item to scam other players by saying that it's a "Time machine that can't be bought on the GE". While it's true that you can't buy it from the Grand Exchange, it's obviously impossible to use it other than to tell time.
Races

Timepiece • Racing boots • Starting horn • Marker seeds

Voting
Hide & Seek

Ring of seeking (hide) • Ring of seeking (seek) • Ring of seeking (both)

Miscellaneous

Faruq's toolonomicon • Orb of oculus • Magic skullball • Empty bag caller • Ticker

Discontinued

Dice bag