Thormac
Discuss

4
22,530pages
on this wiki

RuneScape uses the British convention for floor numbering: Ground floor, first floor, second floor, etc.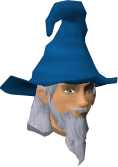 Thormac is a non-player character who lives at the top of the Sorcerer's Tower south of Seers' Village. He begins the Scorpion Catcher quest. After completing the quest, he can perform a useful service for players which will change a battlestaff into a mystic staff. This service costs 40,000 coins, or 27,000 if you've completed the Seers hard tasks.
He can also be accessed by entering the West portal on the second floor of the Wizards' Guild; this unlocks a hard Ardougne Task.
The staff he wields is unique and not available to players. Its orb makes the staff look similar to the one held by Clivet, but Thormac's staff is straight and coloured a dark blue, while Clivet's is crooked like staves wielded by players and is coloured black.