Third-age mage armour
Discuss

9
22,530pages
on this wiki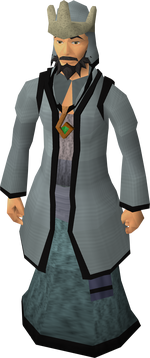 Third-age mage armour is a set of Third-age armour for Mages, currently the second most powerful non-degradable, non-dungeoneering, mage armour. To wear this armour the player needs at least 65 Defence and 65 Magic. To obtain this rare armour the player can complete a Hard Treasure trail for a chance at receiving parts of it, trade with another player, or buy it in the Grand Exchange.
Originally, the bonuses of this armour were equivalent to the Infinity robes obtained in the Mage Training Arena but were later altered to make this armour more of a useful item rather than just a collector's item. Despite this, the robes are so expensive they are rarely used in combat and players who own them do so mostly as a show of wealth.
Since these robes are extremely valuable, most choose to hold onto to them as a sign of wealth, prestige, and accomplishment.
It was long thought that the chance of obtaining a piece of third-age armour was about 1 in 10,000 (according to Paul Gower); it was revealed that the odds are between 1/100,000 and 1/1,000,000.[1]
Third-age Mage Grand Exchange Cost 
Third-age mage hat
 

8,239,881

[view] 
Third-age robe top
 

77,173,244

[view] 
Third-age robe
 

30,290,948

[view] 
Third-age amulet
 

19,423,553

[view]
Total
 

135,127,626

coins
[view]
•
[talk]
Components and bonuses
Edit
The third-age robe top on male characters had a glitch where every action the player does the bottom part of the robe top stayed static in one place. This has been fixed by Jagex with the update that improved some weapons' animations.
The third-age robe top has a striking resemblance to a lab coat.
The third-age robe top is one of only a few items that extend past a characters body, most armours tightly fit their body.
See also
Edit
References
Edit
Warrior armour

Melee set • Helmet • Platebody • Platelegs • Kiteshield

Mage robes
Ranger armour

Ranger set • Coif • Top • Legs • Vambraces

Druidic robes