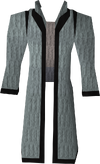 The Third-age robe top is a member's only piece of armour that is part of the Third-age mage set. To wear the top the player needs at least 65 Defence and 65 Magic. To obtain a third age robe top the player can either complete a Level 3 Treasure trail for a chance at receiving it, trade with another player, or buy it in the Grand Exchange.
It was long thought that the chances of obtaining a piece of third-age armour was about 1 in 10,000 (according to Paul Gower), and in 2010 Mod Maylea stated that the odds are lower than 1 in 100,000 [1]. More recently, however, Mod John C confirmed that the chance of receiving a specific piece of third-age armour from a Treasure Trail is 1 in 42,000.[2]
Combat Stats

A player wearing a Third-age robe top.

Skill requirements
65 , 65
Class
Slot
Magic
Weapons
Main
Off
Damage
-
-
Accuracy
-
-
Style
-
Attributes
Armour
298
Life points
0
Prayer
0
Strength bonuses

0

0

0

[view] • [talk]
Originally, the bonuses of this armour were equivalent to the Infinity top obtained in the Mage Training Arena but were later slightly increased.
The top suffered a glitch when riding magic carpets - a part of the robe would 'stick' to the ground. This was fixed on 28 July 2009[3].
Ever since The Warped Floors release on 2 November 2010 the third-age top appears to have shortened quite dramatically.
References
Edit