Third-age ranger set
Discuss

0
24,869pages
on this wiki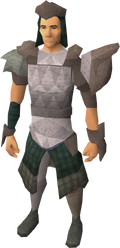 Third-age ranger sets are made by exchanging a third-age range coif, third-age range top, third-age range legs, and third-age vambraces with a Grand Exchange clerk. The set's purpose is purely to save space and for use in the Grand Exchange. The whole set is rarely traded due to the rarity of each individual piece.
Currently, third age ranger sets are the most expensive ranged armour in RuneScape, ahead of pernix armour. Players wear this set to show their wealth rather than use in combat, as there are other ranged armours, such as royal dragonhide, that have equal or better stats, while also being much cheaper.
It was long thought that the chances of obtaining a piece of third-age armour was of about 1 in 10,000 (according to Paul Gower), however, it was recently confirmed that the odds are lower than 1 in 100,000 [1].
Third Age Ranger Grand Exchange cost 
Third-age range coif
 

9,348,541

[view] 
Third-age range top
 

71,298,905

[view] 
Third-age range legs
 

44,032,182

[view] 
Third-age vambraces
 

6,551,621

[view]
Total
 

131,231,249

coins
[view]
•
[talk]
Components and Bonuses
Edit
References
Edit
Melee

 Melee set •  Helmet •  Platebody •  Platelegs •  Kiteshield

Magic
Ranged
Prayer
Standard

Melee

| | |
| --- | --- |
| Plateleg sets |  Bronze •  Iron •  Steel •  Black •  Mithril •  Adamant •  Rune •  Dragon chain •  Dragon plate |
| Plateskirt sets |  Bronze •  Iron •  Steel •  Black •  Mithril •  Adamant •  Rune •  Dragon chain •  Dragon plate |

Ranged

 Green d'hide •  Blue d'hide •  Red d'hide •  Black d'hide •  Royal d'hide

Magic

 Blue mystic •  Light mystic •  Dark mystic • Splitbark •  Infinity

Treasure Trails

Melee

| | |
| --- | --- |
| Plateleg sets |  Black (t) •  Black (g) •  Adamant (t) •  Adamant (g) •  Rune (t) •  Rune (g) •  Guthix •  Saradomin •  Zamorak •  Bandos •  Ancient •  Armadyl •  Gilded •  Third age •  Rune (h1) •  Rune (h2) •  Rune (h3) •  Rune (h4) •  Rune (h5) •  Adamant (h1) •  Adamant (h2) •  Adamant (h3) •  Adamant (h4) •  Adamant (h5) •  Black (h1) •  Black (h2) •  Black (h3) •  Black (h4) •  Black (h5) |
| Plateskirt sets |  Black (t) •  Black (g) •  Adamant (t) •  Adamant (g) •  Rune (t) •  Rune (g) •  Guthix •  Saradomin •  Zamorak •  Bandos •  Ancient •  Armadyl •  Gilded •  Rune (h1) •  Rune (h2) •  Rune (h3) •  Rune (h4) •  Rune (h5) •  Adamant (h1) •  Adamant (h2) •  Adamant (h3) •  Adamant (h4) •  Adamant (h5) •  Black (h1) •  Black (h2) •  Black (h3) •  Black (h4) •  Black (h5) |

Ranged

 Leather (t) •  Leather (g) •  Green d'hide (t) •  Green d'hide (g) •  Blue d'hide (t) •  Blue d'hide (g) •  Guthix •  Saradomin •  Zamorak •  Bandos •  Ancient •  Armadyl •  Third age

Magic
Prayer

 Third age

Barrows

 Ahrim's •  Dharok's •  Guthan's •  Karil's •  Torag's •  Verac's •  Akrisae's

God Wars Dungeon
Others

 Initiate m •  Initiate f •  Proselyte m •  Proselyte f •  Rock-shell •  Skeletal •  Spined •  Elite black •  Dagon'hai •  Cannon
Trimmed leather armour set
Gold-trimmed leather armour set
Green d'hide trimmed set
Green d'hide gold-trimmed set
Blue d'hide trimmed set
Blue d'hide gold-trimmed set
Green d'hide blessed set
Blue d'hide blessed set

 Saradomin body •  Saradomin chaps •  Saradomin vambraces •  Saradomin coif

Red d'hide blessed set

 Zamorak body •  Zamorak chaps •  Zamorak vambraces •  Zamorak coif

Dyed silver d'hide blessed set

 Armadyl body •  Armadyl chaps •  Armadyl vambraces •  Armadyl coif

Dyed brown d'hide blessed set
Dyed purple d'hide blessed set

 Ancient body •  Ancient chaps •  Ancient vambraces •  Ancient coif

Third-age ranger set

 Third-age range coif •  Third-age range top •  Third-age range legs •  Third-age vambraces