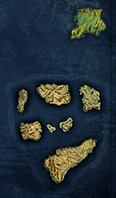 The Shield is a region within the Wushanko Isles accessible by the Player-owned port minigame, found far from the West. It is the eighth region opened up by the player advancing through the minigame and gives Azure missions. Not much is known about these far-off islands. Rare koi have been known to congregate in the surrounding waters, and khans send mining expeditions to the islands to find rich veins of minerals and jewels before their rivals.
NPCs

Main characters
Adventurers
Other
* Only during the Mega May event.
Experience lamps from Meg

Small
Medium
Large
Huge
Ad blocker interference detected!
Wikia is a free-to-use site that makes money from advertising. We have a modified experience for viewers using ad blockers

Wikia is not accessible if you've made further modifications. Remove the custom ad blocker rule(s) and the page will load as expected.