Walkthrough
Edit
| | |
| --- | --- |
| Start point | Speak to Father Aereck in the Lumbridge church, east of Lumbridge Castle. |
| Member requirement | Free to play |
| Official difficulty | Novice |
| Length | Short (~4 minutes) |
| Requirements | None |
| Items required | Items from the tool belt are not listed unless they do not work or are not automatically added. |
| Enemies to defeat | |
Getting started
Edit
Talk to Father Aereck in Lumbridge church.
Go through the graveyard's Southern exit and follow the shore to a mining site. Head west to a hut in the swamp.
Ghostspeak Amulet
Edit
Talk to Father Urhney inside the hut.
Go back to the graveyard and open a coffin located south of the catacombs.
Equip the Ghostspeak amulet and talk to the ghost.
The Skull
Edit
Head back through the southern gate of the graveyard, keep walking until you reach the mining site once again.
Look south-east of the mining site, there will be a large rock.
Search the rock, you will receive a muddy skull.
Kill the skeleton OR run away.
Go back to the graveyard and use the skull on the coffin.
Quest completed!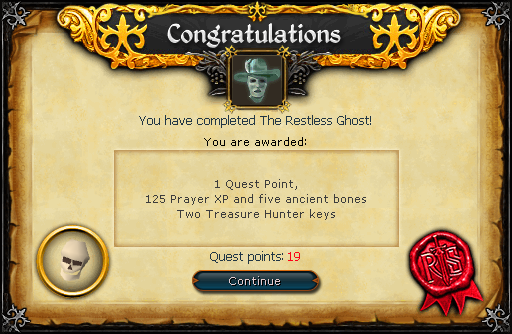 Ad blocker interference detected!
Wikia is a free-to-use site that makes money from advertising. We have a modified experience for viewers using ad blockers

Wikia is not accessible if you've made further modifications. Remove the custom ad blocker rule(s) and the page will load as expected.