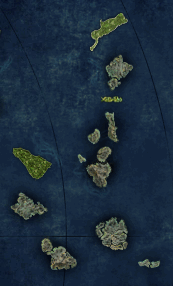 The Hook is a region within the Wushanko Isles accessible by the Player owned ports minigame, found east of The Arc and between The Skull and The Scythe. It is the third region opened up by the player advancing through the minigame. The Hook is less settled than The Skull. Apart from deposits of black slate, which is quarried by a dispersed population of mining colonies, it is otherwise mostly barren and a fine place for those seeking solitude for whatever reason.
Voyages which do not mention specific islands can be collected here.
In Break it Up, Boys, the player may intercede in a fight between pirates from the Blazing Lantern clan and the Storm Riders clan.
In Scupper a Plot, the player receives a very important letter concerning a plan to manipulate the price of black slate, and must deliver it to the head of the Ken Ji Mining Guild.
Most of the islands in this region share their shapes and sizes with a major island of the real-life Hawai'ian Islands. Rapa Causeway is shaped like O'ahu, Bay of Playful Sirens like Maui, The Fistmarks of Genma like Kaua'i, the island east of The Fistmarks of Genma like Ni'ihau, the northeast Earthquake Straits island like Moloka'i, the northwest Earthquake Straits island like Lana'i, and the northwest Teardrop island like Kaho'olawe.
NPCs

Main characters
Adventurers
Other
* Only during the Mega May event.
Experience lamps from Meg

Small
Medium
Large
Huge