The Harmony of the Runes is a book about the relation between runes and music. It was written by Archmage Perien. This book is used to find the Wizards' Tower basement key, which is used to access to the ruins beneath the Wizards' Tower. It can also be found in a bookcase in a player-owned house.
Transcript
Edit
Right-clicking the book gives the option of viewing a diagram.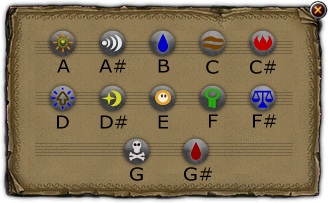 Ad blocker interference detected!
Wikia is a free-to-use site that makes money from advertising. We have a modified experience for viewers using ad blockers

Wikia is not accessible if you've made further modifications. Remove the custom ad blocker rule(s) and the page will load as expected.