The Golden Gnomes
Discuss

0
24,120pages
on this wiki
This article is about the competition. For the Super September statue, see
Golden Gnome
.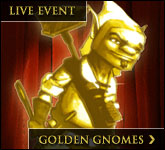 The Golden Gnomes is an annual major Oscar-like award competition held by Jagex, usually around the time of Runefest. It differed to the past 2 Machinima competitions as it had an additional few category's to enter into, and resulted in separate winners for each category.
As of 2013, there have been three Golden Gnome Awards held. One in 2010, 2011 and 2013.
The past two events, Party Pete hosted the award ceremonies, and a selection of well known Jagex Moderators including Mod MMG and Paul Gower. In 2013, it was hosted by Mod Mark and Mod Paul M.
Categories
Edit
For the 2010 competition, entrants had a choice of 3 styles of video entries, which were Machinima, Live action or Animation, and for each of the styles, they could choose either the short story or RSMV (RuneScape Music Video) categories.
The categories were as follows:
Best Machinima short story
Best Machinima RSMV
Best live action short story
Best live action RSMV
Best animation short story
Best animation RSMV
For each of the categories, 2 entries were selected as finalists.
For the 2011 Competition, the categories were slightly broadened, to allow more people to participate.
The categories were as follows:
 Best Voice Acting
 Best Use of Effects
 Best Use of Sound
 Best Story Telling
 Funniest Video
 Best Video Overall
For each of the categories, 3 entries were selected as finalists.
In 2013, the categories were not all video categories. There was also 15 gnomes to be handed out, for things like cosplay, art, videos and achievments.
The categories were as follows:
Best YouTube Channel
Best Art
I should win a gnome because...
Top Ranking Zamorakian & Saradominist
Best livestream
Top Ranking Player
Best Live Action
Top Ranking clan
Funniest Video
Machinima one to watch
Best Guide
Lifetime achievment
Best cosplay
What are the rules?
Entries must sent as a link to the competitions@jagex.com with the information given in each category.
If you are under the age of 13, your entry must be sent from your parent or guardian's email address.
All videos must include your username.
All entries must comply fully with the RuneScape Rules of Conduct.
Your submission must be RuneScape related
For the video submissions, any music can be used as long as the artist agrees.
The 2010 finalists
Edit
Below were the twelve finalists chosen by Jagex:
Best Machinima short story (YouTube link)
Untitled by Robz - Winner
Untitled by bumbum007
Best Machinima RSMV (YouTube link)
Untitled by Postrach2
Untitled by Neon Slay - Winner
Best live action short story (YouTube link)
Odd One Out by 1carrot - Winner
The Barbarian Way by Mystic Man77
Best live action RSMV (YouTube link)
The Switch by High Quota
Untitled by KKComics - Winner
Best animation short story (YouTube link)
Untitled by Mino-Tauros - Winner
The Wilderness Gaurdians by His Lordship
Best animation RSMV (YouTube link)
Untitled by Josh1391 - Winner
Untitled by Green Tea3
2013 finalists
Edit
Most winners were decided by Jagex, except two, which was decided by audience cheering.
Best YouTube Channel
Best Art
BornToDesign
Runnerups: Teezkut, V O R P A L
Top Ranking Zamoakian & Saradominist
Saradominist: Sgt Tilley
Zamorakian: Awww
Best Livestream
Top Ranking Player
Best Live Action
Top Ranking Clan
Funniest Video
Machinima one-to-watch
Best Guide
Lifetime Achievment
Best Cosplay
Girl: Demolitione
Boy: Rodeo wn
A Big Ticket (an all expenses paid trip to the UK to visit Jagex Games studio) (Was only a reward in 2010)
Runescape merchandice
Lifetime RuneScape membership (Only a reward in 2010/11)
3 months membership
A Golden Gnome award.
At first, the animation category was not put forward as a category for the Golden Gnomes, but after a great deal of feedback it was introduced into the Golden Gnomes.
The Golden Gnomes were the first RuneScape video competition to have more than one finalist and the first to introduce the Animation and Live action video categories.
The Golden Gnome award is not in fact made of real gold, but made of a durable plastic, but is still gold in colour.
During the award ceremony, Excl, a previous Machinima competition winner, made a special appearance to announce the winner of the Machinima Short Story category.
In 2013, player S U O M I achieved rank 1 overall before the Gnome ceremony, but because of the time the winners were decided, Jake won this prize.
References
Edit