Walkthrough
Edit
Start point

Speak with Commander Veldaban in Keldagrim
Member requirement
Members only
Official difficulty
Intermediate
Official length
Medium to Long
Requirements
Skill requirements are not boostable.

Recommended:

Items required
Items from the tool belt are not listed unless they do not work or are not automatically added.
Recommended
There is a bank in Keldagrim, so you don't have to carry everything there. Once you're there, take the items out for use in the quest.
Enemies to defeat
Under arrest
Edit
Enter the tunnel in the north side of the east of Rellekka, close to fairy ring DKS. As soon as you enter, walk east and enter the cave entrance shaped like a crack in the wall in between the two statues to go to Keldagrim.
Talk to the Dwarven Boatman inside the cave.
After the cutscene, continue dialogue with Commander Veldaban.
In east Keldagrim, just north-west of the pub, talk to Blasidar the Sculptor.
King's clothes
Edit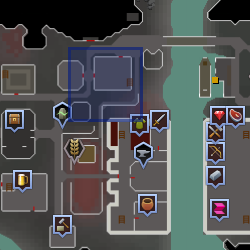 In the large building just west, talk to Vermundi at the silk icon.
In the building west of the northern bridge, talk to the Librarian.
While weighing less than 30kg, attempt to climb the bookcase against the north wall.
With the book, return to Vermundi.
Use coal and logs on her spinning machine.
Try to light it until the engine starts. (This may take several attempts)
Talk to Vermundi.
King's axe
Edit
Northwest corner of Keldagrim, talk to Santiri.
Use 3 sapphires on the battleaxe.
If you have not completed The Knight's Sword:

Talk to Santiri again.
Talk to the Librarian east.
Talk to Reldo in Varrock Palace about Imcando Dwarfs.

Talk to Thurgo in his small hut, south of Port Sarim, and north of Mudskipper Point.

Take a Redberry pie with you when you talk to Thurgo.
Have an iron bar to give to Thurgo.
King's boots
Edit
Far west of the city, talk to Saro at the anvil icon.
North of the bank, talk to Dromund.
Take the left boot while his back is turned.
Run outside to the northwest window.
With his back turned, Telekenetic Grab the right boot.
With the 3 items, talk to Riki the sculptor's model near Blasidar the sculptor.
Talk to Blasidar for a cutscene.
Climbing the corporate ladder
Edit
In the event you do not possess the ore or bars the secretary or director assigns as your task, you do not have to accept it, simply cancel the dialogue and request another task.(This may make you have to do more than 4 tasks though as you may lose favor declining too many tasks)
Run west to the marketplace building and up the stairs.
Talk to any secretary - your character's gender may disqualify your eligibility to work for that colour of company, consequently try another colour.
Fetch them the required ore. (Repeat for a total of 4 tasks)
Talk to the director.
Fetch them the required bars. (Repeat for a total of 2 tasks)
Talk to the director.
West of the bank, return to Commander Veldaban.
Quest complete!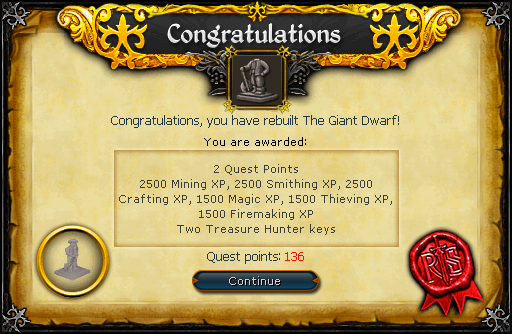 2,500 experience
2,500 experience
2,500 experience
1,500 experience
1,500 experience
1,500 experience
The ability to use the mine cart system
The ability to work for the company the player has chosen by completing tasks similar to the ones in the quest
The ability to teleport to Keldagrim with a luck of the dwarves or a Hazelmere's signet ring
The ability to use members-only gravestones, which last longer than the free-to-play gravestones
2 Treasure Hunter keys and 2 Hearts of Ice

Music unlocked