Walkthrough
Edit
Start point

Talk to Mord Gunnars in northern Rellekka
Member requirement
Members only
Official difficulty
Experienced
Length
Long (~1 hour 14 minutes)
Requirements

Quests:

Recommended:

Items required
Items from the tool belt are not listed unless they do not work or are not automatically added.

Raw tuna (can be fished in Jatizso or, with 42 thieving, it can be stolen from a fish stall at Rellekka)
Ores depending upon your mining level: (can be noted)

Quest items attainable before starting:

8 split logs (only if you are under 54 Woodcutting)
Fremennik round shield (can be made during the quest if you have 54 woodcutting)

Bronze nail (only if you want to make the Fremennik round shield yourself; can be bought during the quest for 7 coins)

Enemies to defeat
Starting out
Edit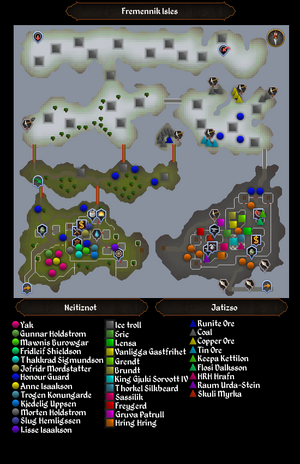 Talk to Mord Gunnars on Rellekka dock about Jatizso's history.
After the story travel to Jatizso.
Talk to King Gjuki.
Give the King a raw tuna.
Give the King your ores. There is a mine to the west if you didn't bring them.
Open the chest and take the jester outfit.
Return to Rellekka, and take the boat to Neitiznot.
Clowning around
Edit
Equip your jester costume, with nothing in your hands, and talk to Slug, north of the bank.
Talk to Mawnis Burowgar.
Use the jester controls to follow Mawnis' instructions.
Return to Slug.
Bridge repairs
Edit
Remove the jester costume and talk to Mawnis.
8 ropes can be obtained by spinning yak hair, 8 split logs can be obtained by crossing the bridge north and using arctic pine logs on a stump.
Talk to Mawnis with the items.
Talk to Thakkrad about the bridges.
Right click bridges, north of Neitiznot, to repair them.
Talk to Mawnis.
Return to King Gjuki.
Tax the shop keepers of Jatizso:

Hring Hring must pay 8,000, he is in south-western most house.
Skuli Myrka must pay 6,000, north from Hring.
Vanligga Gastfrihet must pay 5,000, north from kings palace.
Keepa Kettilon must pay 5,000, east from Vanligga.

Return to the king.
Tax all bearded people for 1k:

Hring Hring.
Raum Urda-Stein in a house with Hring Hring.
Skuli Myrka.
Keepa Kettilon.
Flosi Dalksson in a house with Keepa Kettilon.

Return to the king.
Return to Rellekka, and take the boat to Neitiznot.
Equip the jester outfit and talk to Slug.
Entertain Mawnis again.
Talk to Slug.
Talk to King Gjuki.
Remove the jester costume and talk to Mawnis.
To obtain yak armour: kill three yaks and give Thakkrad to tan. Thread is required to craft the top and legs.
Talk to Mawnis when you have the yak armour.
To obtain a round shield: buy 1 bronze nail from Jofridr in the bank, obtain 1 rope, chop two arctic logs and take everything to a stump.
Talk to Mawnis with these items.
The final battle
Edit
Prepare for battle then enter the Ice Troll Caves. Protect from missiles is advised. Familiars are not allowed.
Kill 10 trolls.
Cross the bridge, kill and decapitate the Ice Troll King.
Take the head to Mawnis.
Quest complete!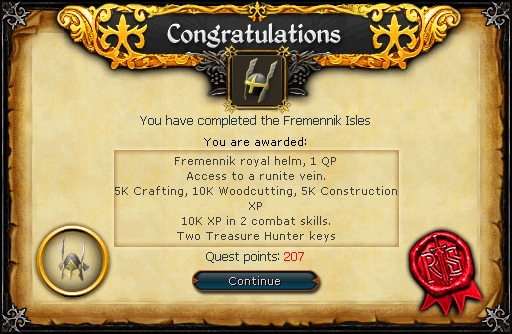 5,000 experience
5,000 experience
10,000 experience
2 x 10,000 experience in Strength, Attack, Defence, or Constitution,

14,000

coins in assorted rewards during the quest.
A replaceable Fremennik royal helmet known as the Helm of Neitiznot, which is an upgrade to the berserker and the warrior helm with a +3 prayer bonus and a better defensive bonus.
Access to a new tree, the arctic pine.
Access to a runite ore rock north-east of Neitiznot, along with 7 coal rocks.
Access to a new mine near Jatizso with ores up to adamantite.
The ability to make yak hide armour which protects against the granite clubs wielded by the trolls and the shield which protects against the stones thrown by the trolls.
The Contraband Yak Produce store is available on Jatizso if the player refunds the

5,000

coin tax to Vanligga Gastfrihet, north of the king.
2 Treasure Hunter keys and 2 Hearts of Ice

Music unlocked
Ad blocker interference detected!
Wikia is a free-to-use site that makes money from advertising. We have a modified experience for viewers using ad blockers

Wikia is not accessible if you've made further modifications. Remove the custom ad blocker rule(s) and the page will load as expected.